What REALLY Happened At Dave Chappelle's Boston Show?
October 21, 2023
Dave Chappelle's show in Boston descended into chaos after an audience member seemingly yelled at him to "shut the f— up" while he was speaking about the Israel-Hamas war. But, is that what actually happened??
The original story goes like this…The comedian condemned Hamas' attack while accusing Israel of committing war crimes when the incident happened, which caused Chappelle to focus on the one individual, slamming them for telling him to shut up.
But a recent statement from a person present at the show paints a different story of what actually happened!
Dave Chappelle Went Nuts On Audience Member Who Yelled 'Shut The F— Up'?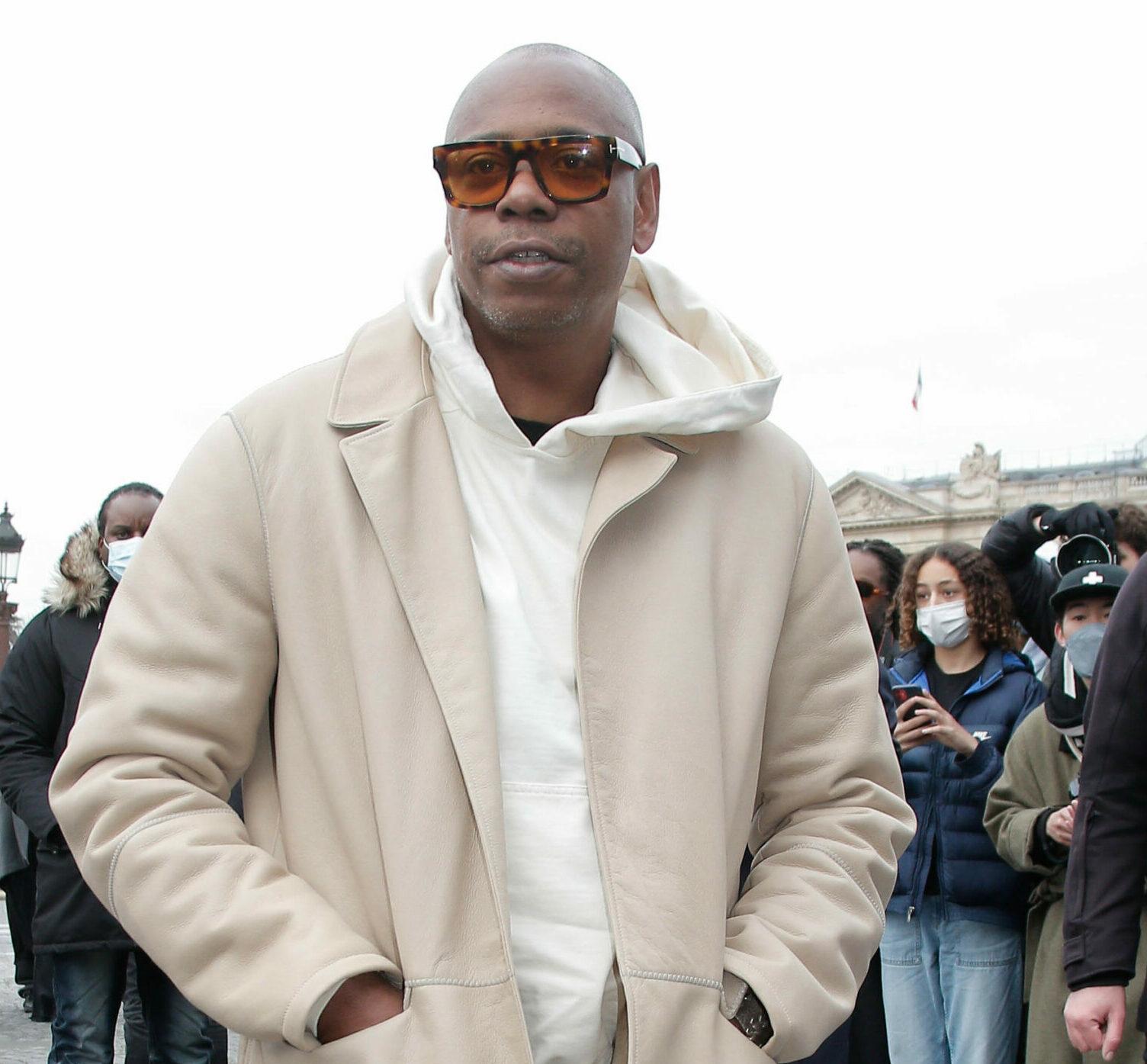 Famed comedian and actor Dave Chappelle's show in Boston witnessed an intense moment when he began talking about the Israel-Hamas war.
Chappelle took a moment between telling his jokes to speak on the ongoing issue. He began first by condemning Hamas' October 7 attack on Israel before accusing the Jewish state of committing war crimes.
According to podcaster Imran Muneer on X (formerly known as Twitter), Chappelle noted that the attack by Hamas was wrong but insisted that Israel was also wrong for killing citizens and restricting water and electricity from Palestinians.
Amid his speech, an audience member yelled, "Shut the f— up," which caused Chappelle to go off on them, saying they had no right to tell him to shut up at his show after paying to see him. But was that audience member actually yelling at Chapelle?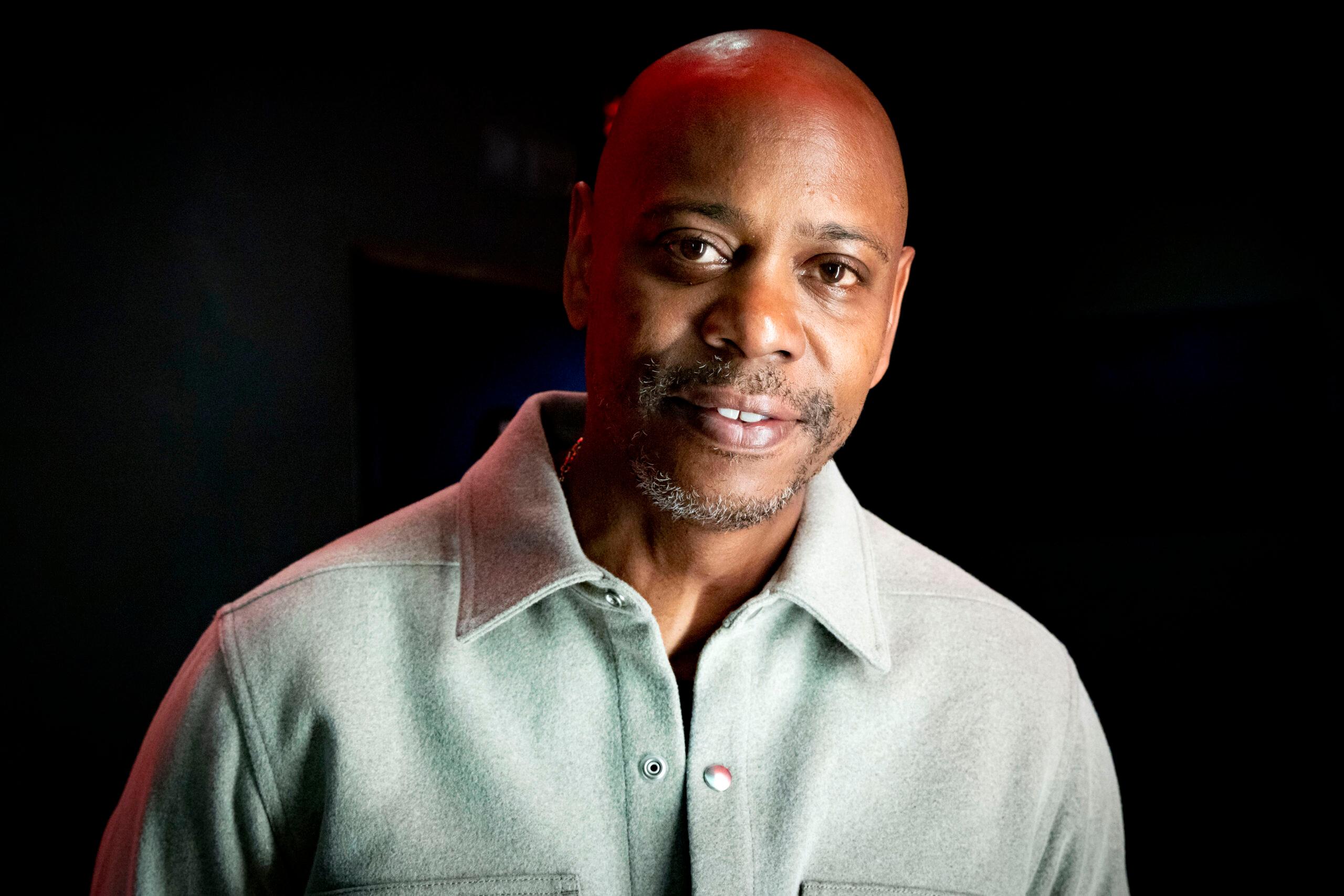 Chapelle thought as much, as he allegedly took a swipe at the U.S. government's promise to aid Israel, saying, "You don't take tens of billions from my country to go kill innocent women and children and come and tell me to shut the f— up."
Chappelle continued, "Don't come begging for money from my country and then go drop bombs on children and cut off innocent people water and electricity. You have the audacity to pay to come see me and then tell me shut the f— up, no you shut the f— up."
Muneer claimed in his X post that the crowd went wild with cheers and applause for Chappelle's impassioned rant while chanting "Free Palestine."
According to the Wall Street Journal, some fans of the comedian walked out of the show, disappointed at his take on the issue.
The Audience Member Wasn't Yelling At Dave Chappelle…
Although reports claim that an audience member shouted "shut the f— up" at Chappelle, a person user who was allegedly at the Boston show says otherwise!
In a Reddit post recounting Chappelle's performance in Boston, a user who goes by "python-is-my-hammer" wrote that the audience member, who got yelled at by the comedian, was actually speaking to two "loud" women next to them.
The Reddit user began, "Folks, I want to clear something up. I was at the show sitting in section 302, row 4. There were two loud, drunk and obnoxious women that started yelling at each other really loud. So much so that Garden security was getting involved. But they did not stop."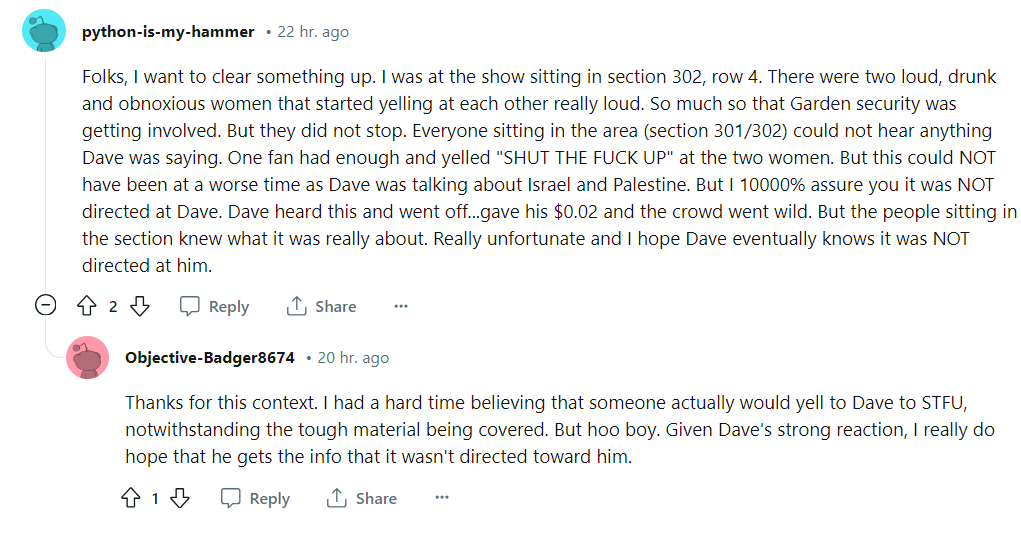 They added, "Everyone sitting in the area (section 301/302) could not hear anything Dave was saying. One fan had enough and yelled 'SHUT THE F— UP' at the two women. But this could NOT have been at a worse time as Dave was talking about Israel and Palestine."
The Reddit user concluded: "But I 10000% assure you it was NOT directed at Dave. Dave heard this and went off…gave his $0.02 and the crowd went wild. But the people sitting in the section knew what it was really about. Really unfortunate and I hope Dave eventually knows it was NOT directed at him."
Will Netflix React To Dave Chappelle's Controversial Stance On The Israel-Hamas War?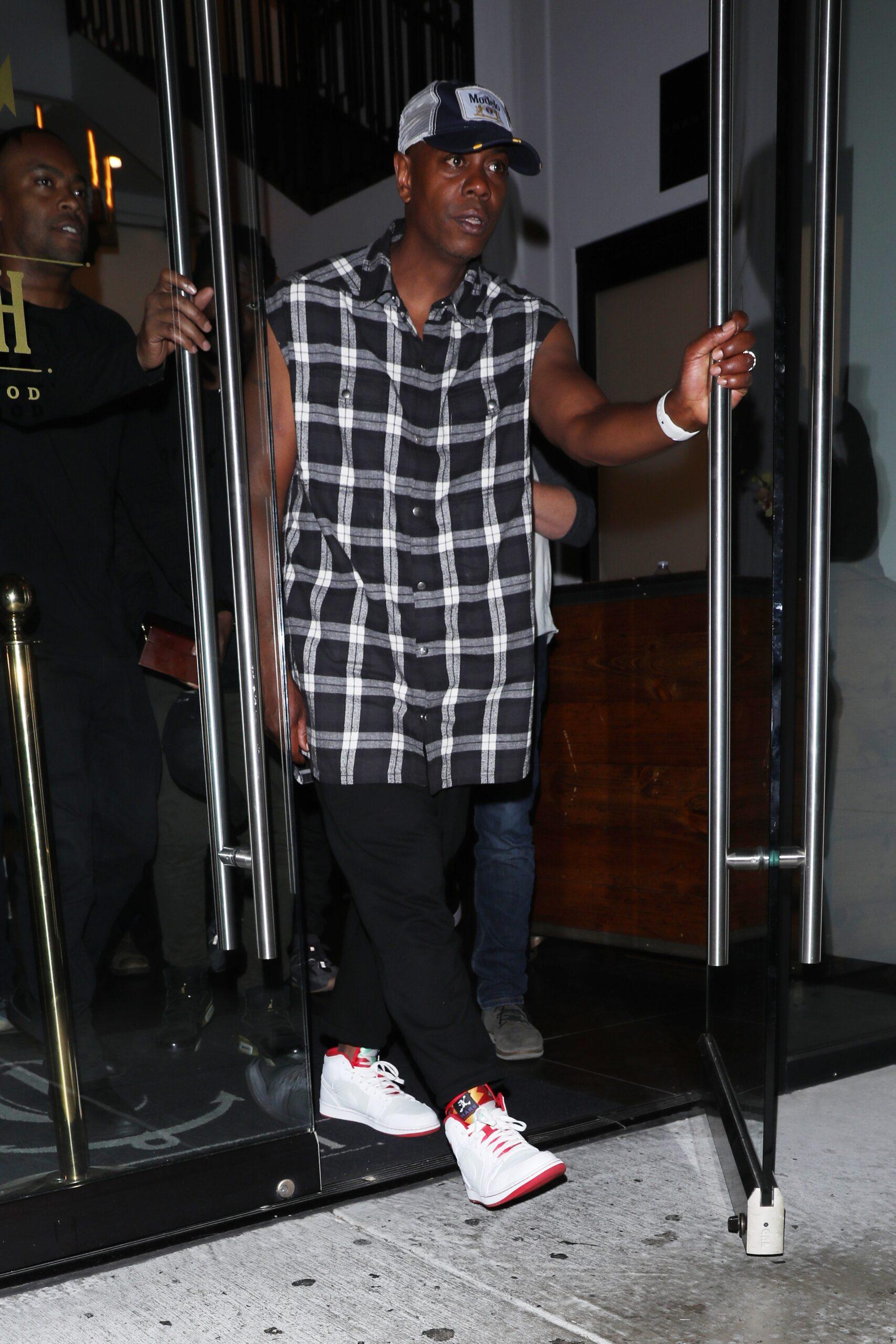 With Chappelle airing his thoughts on the conflict between Israel and Hamas, all eyes are now on Netflix to see how the streaming giant would react to the comedian's controversial opinion.
In 2021, Netflix supported Chappelle after his jokes on his "The Closer" special were deemed transphobic by many.
At the time, there were calls for the company to cut ties with Chappelle and not air the show on their platform, but they stood by the comedian, stating that his jokes did not "cross the line of hate."
In a memo, Netflix CEO Ted Sarandos defended Chappelle's show following claims that there were threats by staff to quit the company over his transphobic jokes. 
Per Variety, Sarandos began: "Several of you have also asked where we draw the line on hate. We don't allow titles on Netflix that are designed to incite hate or violence, and we don't believe 'The Closer' crosses that line." 
Netflix has yet to reply to our request for comments on Chappelle's statement about the Israel-Hamas war.
About The Author
mojjo