Travis Kelce's Mom Spotted Watching Taylor Swift 'Eras Tour' Movie
November 14, 2023
Mama Kelce might not have been able to follow her son Travis Kelce and Taylor Swift to Argentina, but she supported the pop singer in the best way ever!
While Swift was tearing it up in Buenos Aires — and changing the lyrics to her hit song to celebrate the Chiefs player — Donna Kelce was back in the US proving she is the biggest fan of "Swelce."
Travis Kelce's Mom Donna Watches Taylor Swift 'Eras Tour' In Cinema
TikToker Dannielle Sparks shared the thrilling story of how she ran into Donna while at the cinema to watch "Eras Tour." Sparks explained that she went to see the record-breaking movie for the fourth time with her mother-in-law when someone who resembled Travis Kelce's mom walked in at the beginning.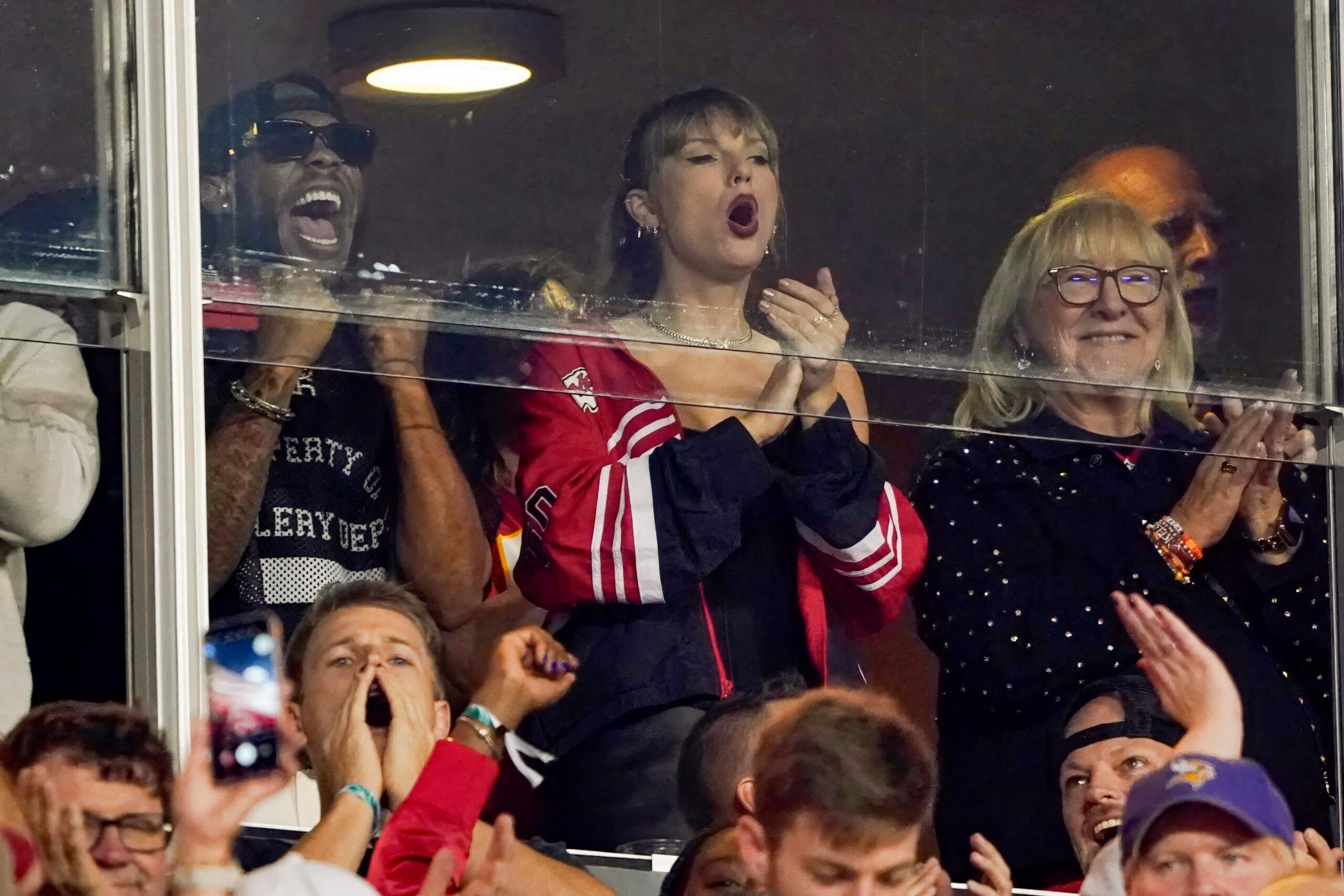 "I was like 'Wow, I never seen someone be such a close doppelganger to Travis Kelce's mother,'" Sparks recalled, adding "You see where this is going." They proceeded to watch the movie during which the audience yelled Swift's altered "Karma" lyrics that referenced the NFL tight end.
However, it wasn't until the end of the movie, in the restroom, that Sparks had a closer run-in with Mama Kelce and sparked a conversation with the matriarch's friend. "Oh my gosh, has anyone ever told her she looks just like Travis Kelce's mother," Sparks said to Donna's friend. "And she was like 'Oh, really? Huh'
Lo and behold, as the TikToker was exiting the restroom Donna unveiled her identity, telling Sparks, "Oh yeah, I am, but Im just a mom." The thrilled Swiftie explained that her jaw dropped seeing Travis mon in a small theatre in Florida on Sunday night.
"It was Travis Kelce's mother in the theatre with us the whole time and no one even knew," gushed Sparks. Calling it "the greatest moment of my life" the TikToker proceeded to ask Donna for a picture and she pleasantly obliged.
"She was the sweetest human ever," Sparks said of the interaction. After taking a picture with Donna, the excited Swiftie proceeded to help the matriarch and her friend take a picture with a cutout of Swift outside the theater.
Sparks recalled Donna telling her, "I need to send this to Travis." The doting mother also informed Sparks that she has Taylor's 1989 cardigan in her wardrobe. As expected, the video garnered quite a reaction from fans who took as proof that Swift and Travis were indeed the real deal.
A fan wrote, "If this was just a PR relationship no way Mama Kelce would go see the Eras Tour movie. loooooove it!" Another Swiftie remarked, "No one's talking about Mama Kelce owning the 1989 cardigan😭 you're kidding me. Imagine her wearing it."
This fan urged, "Travis needs to bring Mama Kelce to a live concert!!!! Mama Kelce and Mama Swift together!!!!"
Travis Kelce Is The Karma Going Home To Taylor Swift
While Mama Kelce was showing her support for her son's relationship with the "Lover" songstress, Swift and the Kansas Chiefs player set the world on fire with their show of love.
On Sunday while performing on stage, Swift tweaked one of the lyrics to include her new man and Travis couldn't help but proudly blush. "Karma is the guy on the Chiefs coming straight home to me," the pop icon proudly voiced.
As seen in a viral clip of the moment, the 34-year-old NFL player was in the VIP tent with Swift's dad Scott Kingsley Swift, who playfully poked him on hearing the lyric change. A shy Travis covered his face in joy for a minute before smiling ear to ear while dancing to his anthem.
Travis Kelce reacts to Taylor Swift's "Chiefs" lyric change for 'Karma' at the Eras Tour.

— Pop Base (@PopBase) November 12, 2023
Papa Swift sweetly cheered along, clapping in approval of his daughter's girlfriend. Travis flew to Buenos Aires to watch his woman perform live on stage during her International leg of The Eras Tour.
After her riveting performance, Swift and Travis shared another heartwarming moment. A fan captured the 12-time Grammy Award winner getting giddy and running into Travis's arms before they shared a sweet kiss.
The two were seen grinning and looked absolutely in love!
About The Author
mojjo