Travis Kelce Makes History With The Chiefs After Broncos Loss
November 6, 2023
No Taylor Swift, no problem, as Travis Kelce is scattering records home and abroad!
Exactly one week after a "frustrating" loss to the Denver Broncos, the tight end alongside his Kansas City Chiefs teammates bounced back with a victory over the Miami Dolphins in Sunday's game. Besides the Chiefs dominating the first half and securing a solid 21-point lead, Kelce's catches earned him the title of the new all-time leading receiver in the team's history.
Travis Kelce Earns A New Badge Despite Taylor Swift's Absence
The first-ever National Football League game in Frankfurt, Germany didn't turn out as the high-flying affair fans had anticipated. Nevertheless, the Chiefs and Dolphins delivered plenty of drama and excitement for their fans.
Kansas City successfully thwarted Miami's comeback effort in the second half, securing a 21-14 victory at Deutsche Bank Park. This marks the first of two NFL games in Germany this season.
Thanks to this win, the Chiefs improved their record to 7-2, while the Dolphins' record dropped to 6-3. As for Kelce, he ended the game with 14 yards from three catches.
According to The Athletic, this accomplishment brings the 34-year-old's career total receiving yards to 10,941, surpassing Hall of Famer Tony Gonzalez's previous record of 10,940. Now that he's outdone Gonzalez, Kelce has now been crowned the all-time leading receiver in Chiefs franchise history.
Despite breaking that record, several people are still holding onto the "Swift statistic," which claims that whenever his girlfriend and singer, Taylor Swift, is present at Chiefs games, he averages more than double the yards compared to when she isn't there. 
In this case, the "Bad Blood" singer was not in Germany to cheer on the Chiefs and her beau. The award-winning artist was also nowhere to be found during the Chiefs game against the Broncos on October 29.
The Broncos not only ended their 16-game losing streak, but also managed to sneak in some trolling. As The Blast reported, once Denver secured their 24-9 win, they didn't hesitate to play Swift's "Shake It Off."
The bit earned a resounding applause from the crowd and online audience after a media outlet posted a 28-second video of the moment on X, formerly Twitter. Reacting to the post, which was captioned, "Broncos played Taylor Swift after beating Chiefs," one person stated, "Childish and I love it," and a second declared, "Payton took his petty with him to Denver."
A third X user agreed that the Broncos' "shade and petty level on this is top-notch," while a fourth shared, "As annoying as all this Taylor / Chiefs / NFL news is becoming this was a well-played troll," and a fifth playfully expressed, "Mf said 'NOW WE GOT BAD BLOOD.' They wild af for that."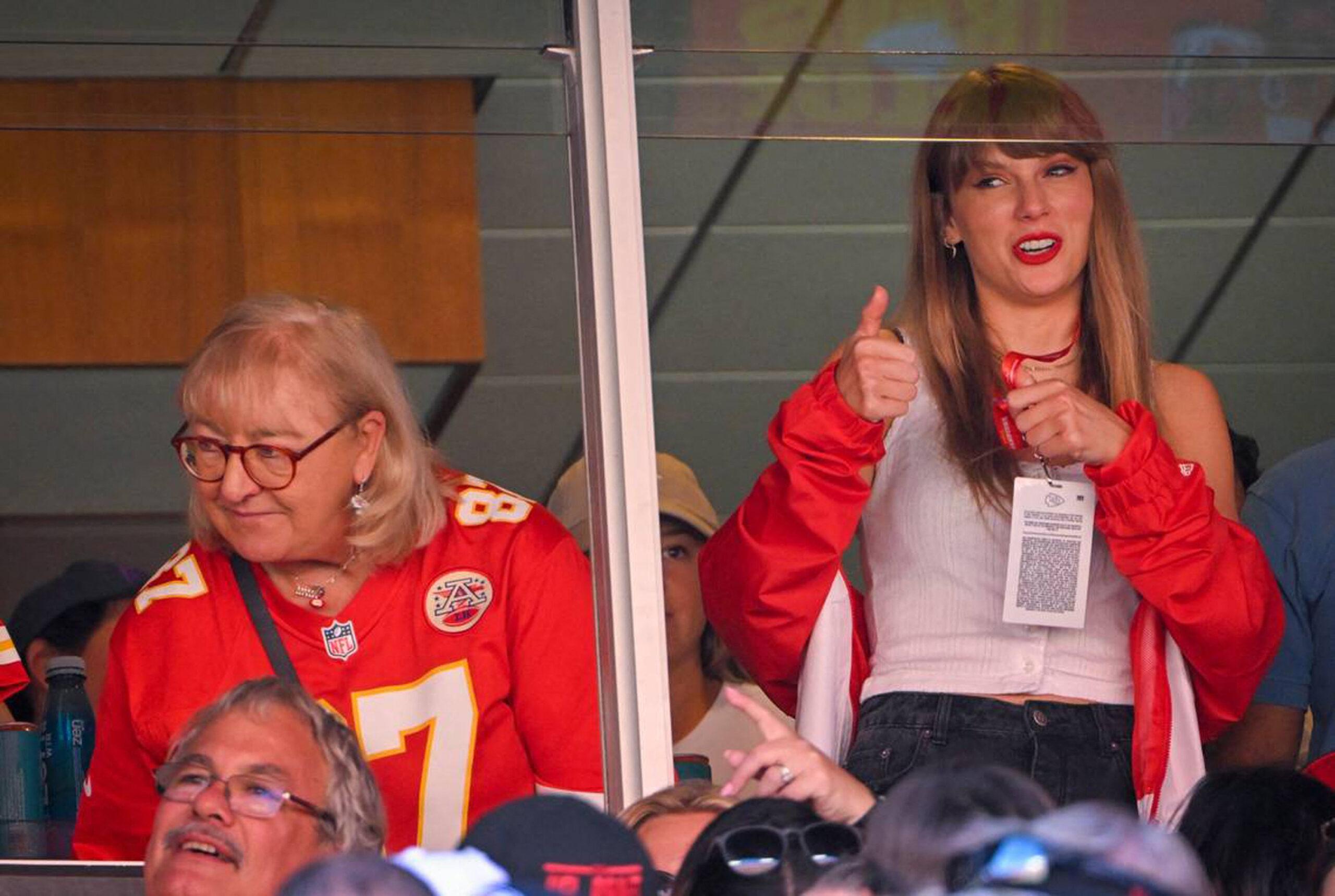 "Give whoever is in charge of music a raise, my level of petty," were the wise words of a sixth viewer as a seventh chimed in, "Well played, Broncos music/sound guy, well played."
The NFL Star's Coach Does Not Want Taylor Swift To Stop Showing Up At Games
As it turned out, fans aren't the only ones who have noticed the effect that Swift has on Kelce whenever she's cheering him from the stands. The team's head coach, Andy Reid, sees it too and he went as far as paying tribute to the "Valentine's Day" actress with a heartwarming message. 
The 65-year-old reflected on the "Taylor Swift effect," after his team secured a 31-17 victory over the Los Angeles Chargers, he said, "Taylor can stay around all she wants."
A look at Kelce's stats amid the Glamour Award winner's attendance to games make it clear why Reid wants her around. So far, the star player has managed 31 catches in his three games against the Minnesota Vikings, the Broncos, and the Chargers.
He also enjoyed the best three-game stretch of his career, with standout performances like his 12-catch, 179-yard, and one-touchdown record in the October 22 game against the Chargers. On the flip side, not everybody sees the connection between Swift's attendance and her man's performance.
One such example is Chiefs wide receiver Marquez Valdes-Scantling, who recently applauded his teammate's skills, saying, "You can know what he's going to run, and you still can't stop it."
About The Author
mojjo