Tori Spelling Is Living In Massive $18k Per Month Home
October 23, 2023
Tori Spelling is ready to leave behind her downscale lifestyle, as she splurges on a massive new furnished Los Angeles home. 
After months of staying in budget-friendly hotels and embarking on an extended camping trip in a spacious RV, the actress and author can now boast an upgrade. The '90210' star reportedly has returned to an upscale neighborhood where she'll be shelling out thousands of dollars per month. 
Tori Spelling Dropping $18K A Month One-Story House, Months Of Trailer Living
Spelling's living situation had been previously affected by financial constraints and a persistent mold problem at her Hidden Hills rental property. The doting mother, along with her five children — Liam, Stella, Hattie, Finn, and Beau — made headlines in August when they briefly stayed at a budget motel. 
The situation became a concern for many as it was quite a contrast to the massive 123-room mansion called "The Manor," in Holmby Hills, California, where the superstar grew up with her parents, Aaron and Candy, and her younger brother, Randy.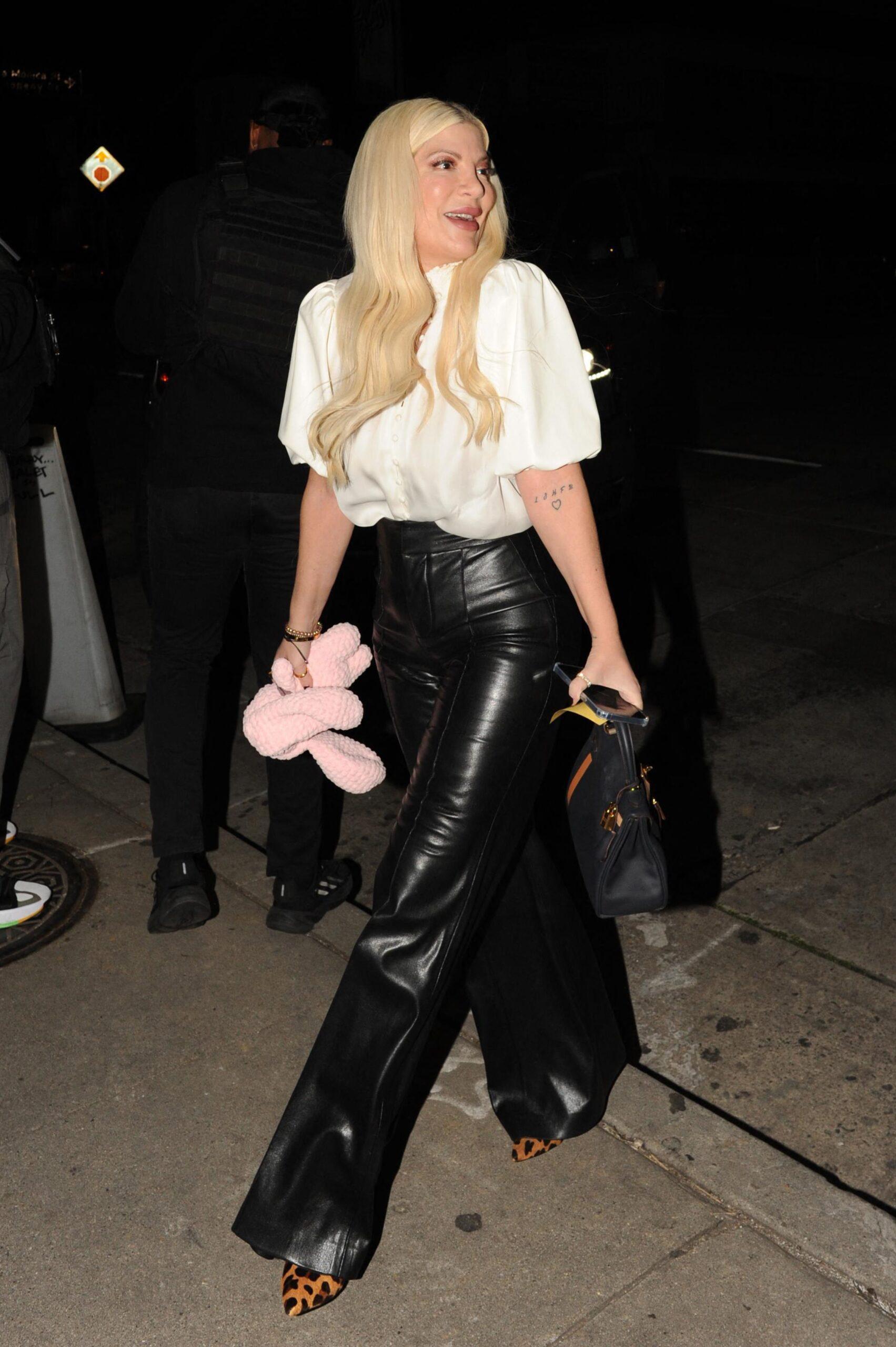 Luckily, she seems to be making her way back to the upscale lifestyle she's accustomed to, having recently moved into a fully furnished rental home in Woodland Hills, California. The home, as Daily Mail reported, will cost the "Mother, May I Sleep with Danger?" actress $18,000 per month with a $19,000 security deposit.
For that whopping amount, she and her brood get a single-story, 3,300-square-foot home with four bedrooms, three bathrooms, and an additional guest house with its own bathroom.
Inside, the residence boasts hardwood floors, a four-person bar seating, a six-person dining area, an office space, large sliding glass doors, flat-panel TVs, a gaming room, comfortable furniture, and ample storage. The fully updated kitchen includes a gas range, stainless steel appliances, and generous counter space.
To beat the San Fernando Valley heat, there's a spacious pool, along with a patio and outdoor entertaining area. The month-to-month rental arrangement appears to suit Spelling's penchant for changing her living situation frequently, even if it comes at a huge cost. 
But, who is paying the bill?
Tori Spelling Catches Fear As Her Ex Catches Feelings
The alarming incident that the "Scary Movie" star was subjected to recently would certainly prompt anyone to go for an upgrade at least for the sake of your children. As reported by The Blast, a frightened Spelling and her five kids were focused on abandoning their rental home following the arrival of law enforcement to search the neighboring house for a man who was barricaded with an assault rifle. 
The SWAT team on the scene was witnessed escorting the neighbor — an African-American man wearing a white T-shirt and blue basketball shorts — with his hands cuffed behind his back.
The "Beverly Hills 90210" actress, who appeared disheveled and visibly stressed, donned a yellow T-shirt, loose dungaree cargo pants, white-and-blue sneakers, a black beanie, choker, and oversized glasses.
At one point, Spelling was observed sprinting down the street while tightly holding her iPhone. Later, as other onlookers gathered, the Young Artist Award winner lowered her head and appeared to slump.
Amid her housing problems, the "Troop Beverly Hills" star's ex-husband, Dean McDermot, has continued to confuse fans about his love life and their relationship. Shortly after he was seen in public with a mystery woman identified as Lily Calo, the Canadian appeared determined to confirm that his connection with the woman was growing very strong.
The Blast shared that the "Due South" alum was captured on Wednesday at Los Angeles International Airport, sharing a kiss with Calo. The pair were extremely comfortable in each other's company, with McDermott being quite generous with the PDA.
He affectionately placed his right arm on his alleged lover's lower back and drew her in for a passionate kiss. They also locked eyes with broad smiles on their faces as they loaded the trunk of a van with their luggage.
For their outing, the new lovebirds went for a casual look, with McDermott sporting a leather hoodie jacket and black pants and his 32-year-old girlfriend wearing a denim jacket, and black pants. 
While the PDA caught many by surprise, the highlight of it was in the form of the wedding ring still proudly worn on the "A Christmas Visitor" actor's finger as he loved up on his woman.
About The Author
mojjo