Taylor Swift Reveals She Is 'Shattered' By Death Of A Fan In Brazil
November 18, 2023
Taylor Swift mourned a fan's death shortly before the start of her Brazil Eras Tour show. The iconic singer said the loss of Ana Clara Benevides Machado "shattered" her heart and said she can't speak on it from the stage. A friend of Machado's has asked that she appear on the stage screens after posting a social media tribute.
During her show, Swift had to pause her performance to ask for water for her fans who were dehydrated. The concert was the first of Swift's three shows that are scheduled for Brazil. Her arrival was welcomed with a projection upon the city's iconic Christ the Redeemer statue. 
Taylor Swift Is Mourning A Fan's Death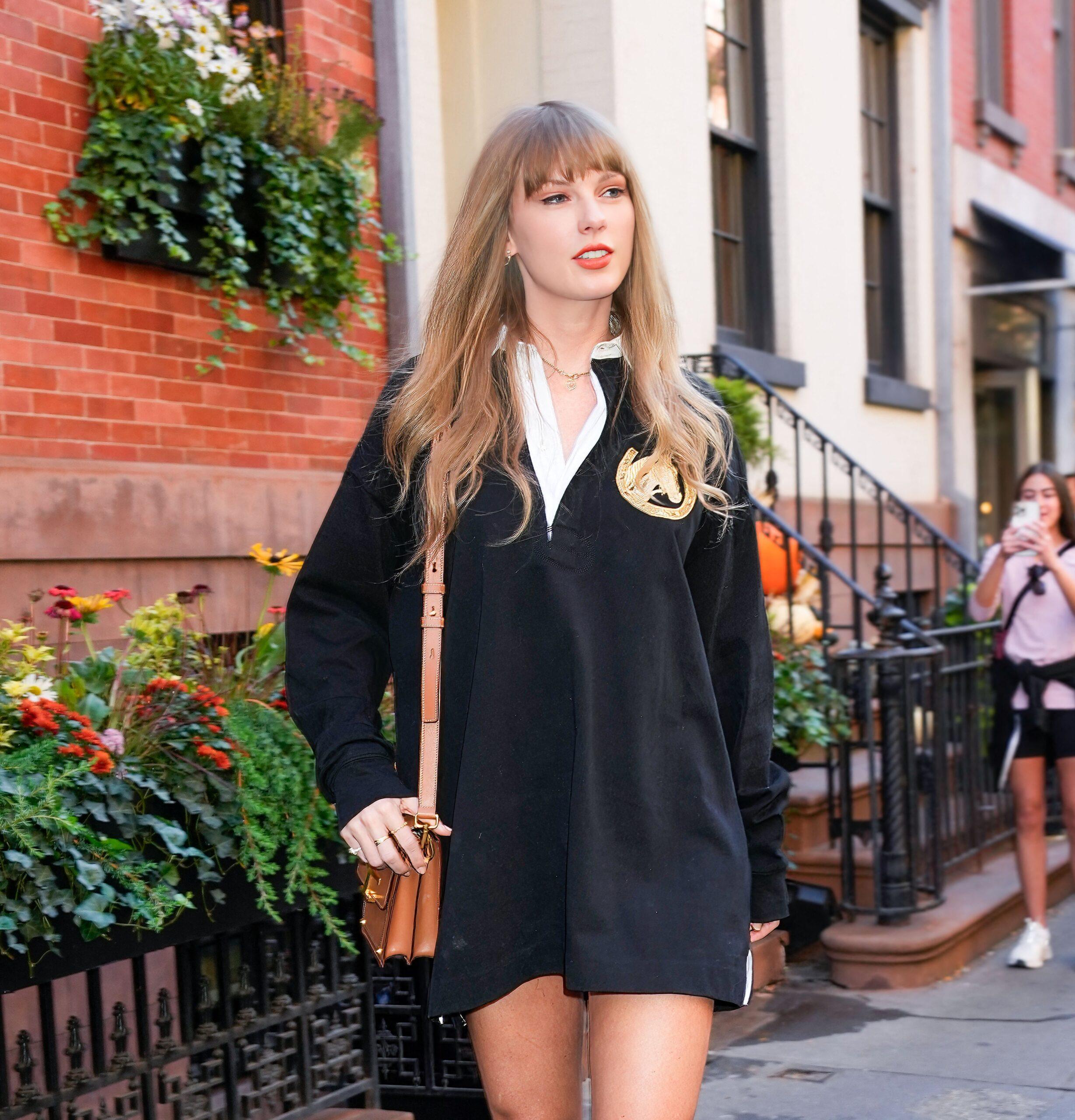 Taylor Swift addressed a fan's tragic death at the most recent Eras Tour show. The singer posted a handwritten note on her Instagram Story on Friday, in which she said the loss "shattered" her heart. Time for Fun, one of the event organizers, announced on X, formerly known as Twitter, that 23-year-old Ana Clara Benevides Machado had died at the Rio de Janeiro concert.
The post revealed that Machado felt sick at the Estadio Nilton Santos stadium and received attention from the first responders. She was eventually transferred to the Salgado Filho Hospital, where Machado eventually died.
In her statement, Swift wrote, "I can't believe I'm writing these words, but it's with a shattered heart that I say we lost a fan earlier tonight before my show. I can't even tell you how devastated I am by this. There's very little information I have other than the fact she was so incredibly beautiful and far too young."
She Won't Speak On Ana's Death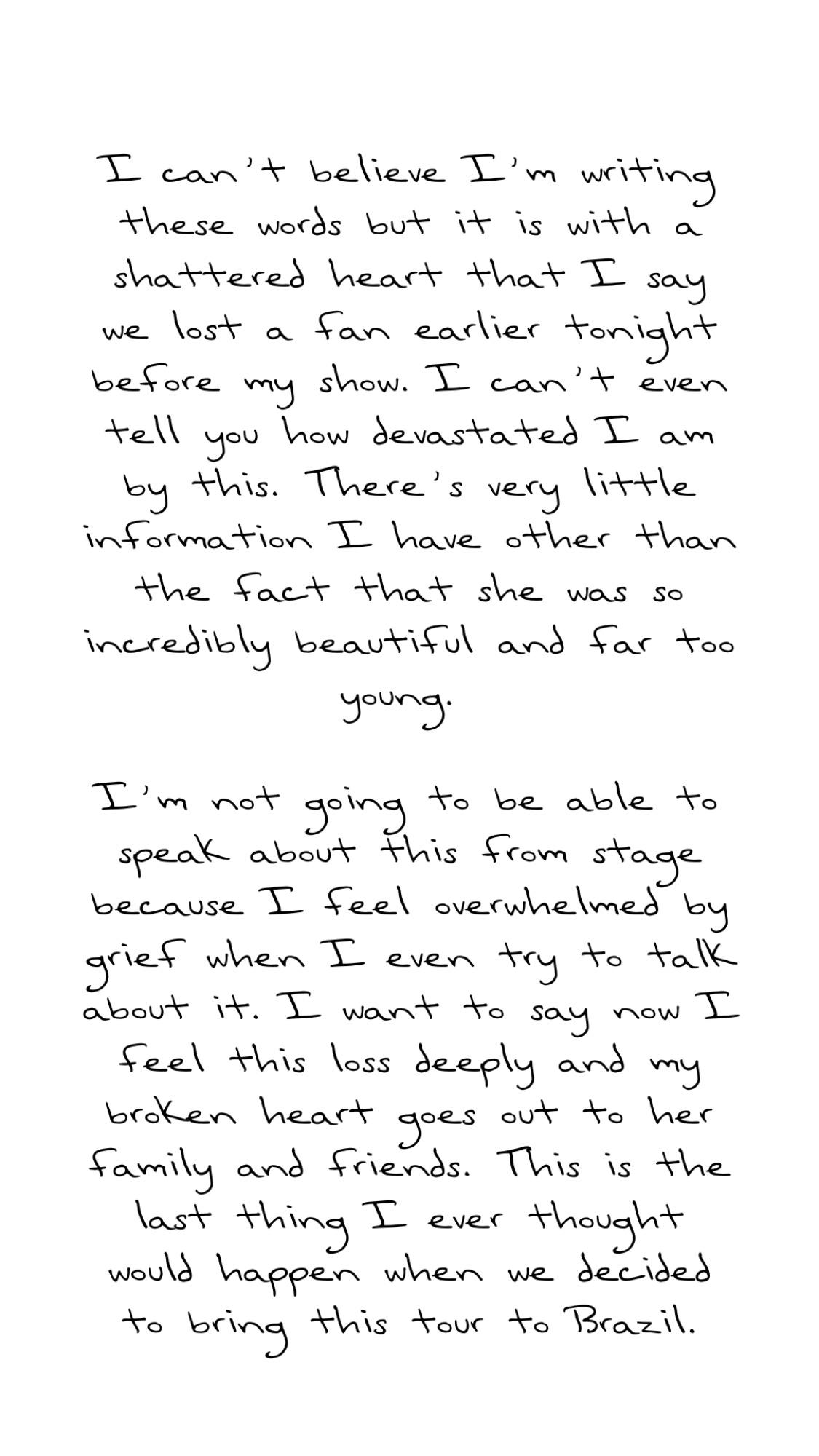 Swift also noted in her statement that she wouldn't be able to speak on Machado's death during the performance because of the "grief" it had caused her. 
She wrote, "I'm not going to be able to speak about this from the stage because I feel overwhelmed by grief when I even try to talk about it. I want to say now I feel this loss deeply and my heart goes out to her family and friends."
Swift concluded, "This is the last thing I ever thought would happen when we decided to bring this tour to Brazil."
Thiago Fernandes, a friend of the late Machado, spoke to Fohla De S. Paulo, a local news station, per People magazine. 
He said, "I want Ana to appear on the screens at Taylor's show." Fernandes also posted a tribute to Machado on Instagram, which read, "I just can't believe you're gone I can't accept that. We talked about this show so many times, and how I wish I was with you."
Taylor Swift Ask For Water For Her Fans
Taylor Swift helps fans chant "Water" in order to get security & staff to bring water to fans who were suffering of dehydration.

The stadium where the Brazilian show was held banned fans from bringing water bottles.

— Pop Crave (@PopCrave) November 18, 2023
Fan footage from the concert was later shared on X, and it showed Swift pausing on the stage multiple times to assist her fans. In one video, Swift can be seen pointing to a section where fans were asking for water. 
She said, "There's people that need water, right here. So whoever is in charge of giving them that, please come and make sure that that happens."
Another viral video from X showed the "Out of the Woods" singer again pointing out some fans who needed water and help. She could be heard saying, "Sorry, it's just it's very hot, so if somebody says they need water when it's this hot, they really need it. We don't need to chant, it's totally fine. But we just need to get water to them."
Taylor Swift's Latest Concert Was In São Paulo
Taylor Swift is welcomed to Brazil with a projection on the Christ the Redeemer statue honoring her. pic.twitter.com/TqiVJjeRgA

— Pop Base (@PopBase) November 17, 2023
The concert in Sao Paolo came after Swift received a massively warm welcome to Brazil for the country's leg of her Eras tour. After her recent shows in Buenos Aires with boyfriend Travis Kelce, the "You Belong With Me" singer arrived in Sao Paolo on Thursday.
Swift was welcomed into the country with a beautiful image projected onto Brazil's famous Christ the Redeemer statue.
A photo from X showed the projection: a white shirt with various symbols from Swift's famous songs. It included a scarf to represent "All Too Well," a bow and arrow for "The Archer," and names of the various states in Brazil.
About The Author
mojjo