Selena Gomez Under Fire For Comments About Israel-Hamas War
November 6, 2023
Selena Gomez got the backlash of her life after she broke her silence on the Israel-Hamas war.
The singer had posted on Instagram about the conflict, but fans felt that she was only trying to play the victim and that her post was half-hearted.
It comes after her fellow celebrity, Gigi Hadid, broke her silence on the war, which led to her receiving backlash from the Israeli government. Additionally, the model and her family received death threats from anonymous individuals.
What Selena Gomez Said About The Israel-Hamas Conflict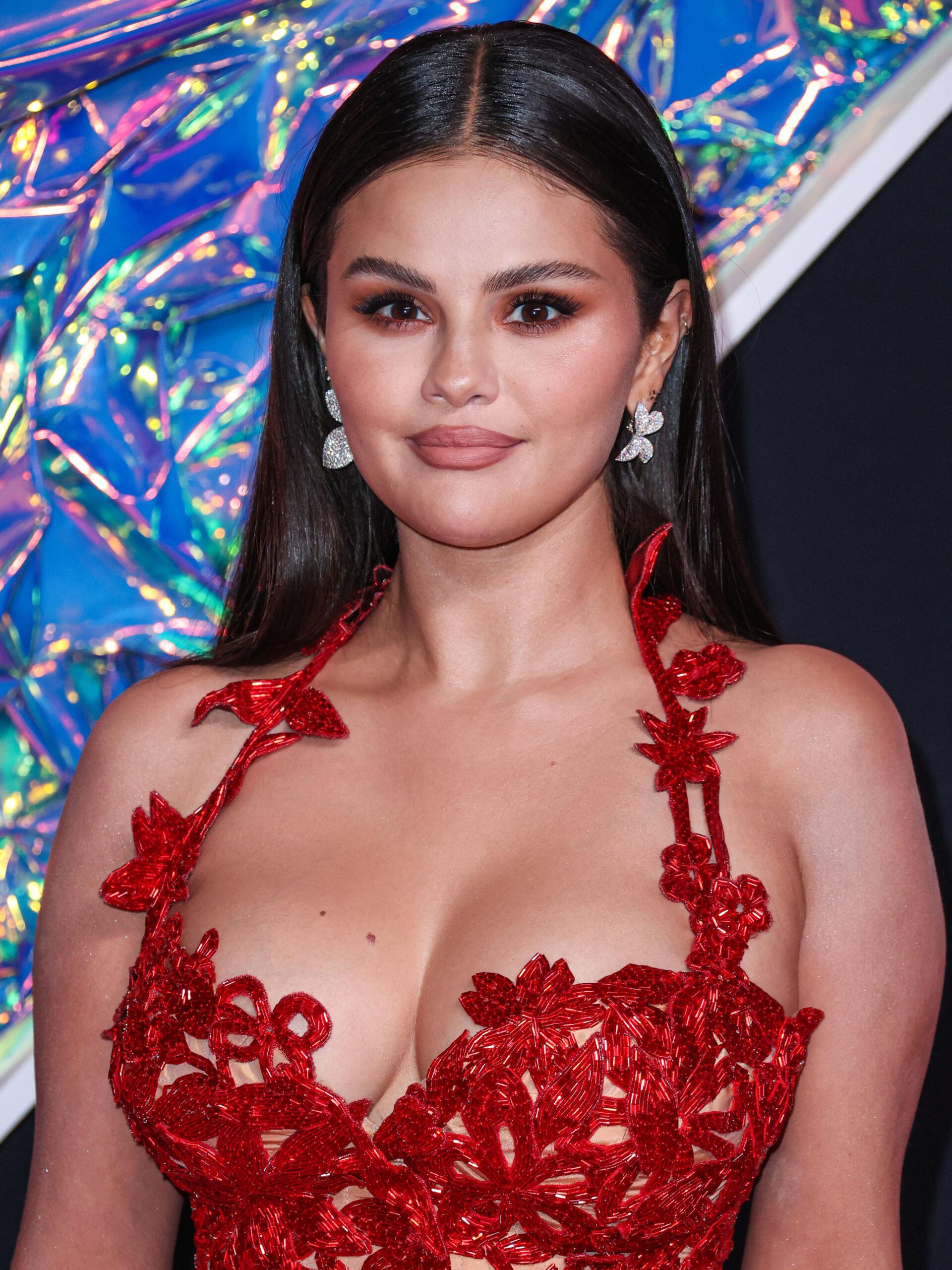 On her Instagram Story, Gomez shared her thoughts about the Israel-Hamas conflict, a conflict that has led to the deaths of thousands since its start a few weeks ago.
Gomez penned, "I've been taking a break from social media because my heart breaks to see all of the horror, hate, and terror that's going on in the world. People being tortured and killed or any act of hate towards any one group is horrific."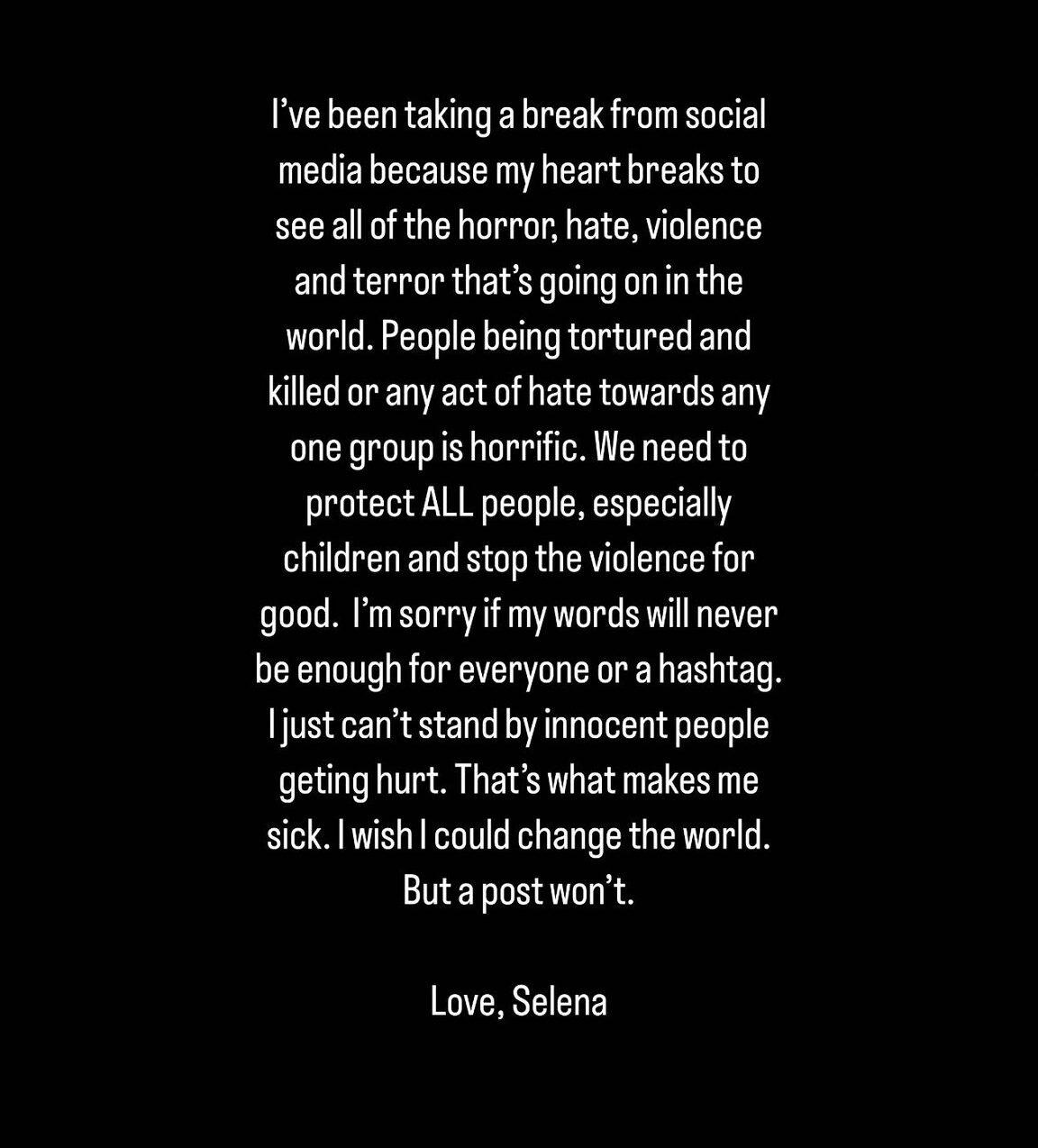 The singer went on to say that "we need to protect ALL people," especially the children, who have also been victims of the conflict on both sides.
Gomez also pointed out that while her words "words will never be enough for everyone," she won't "stand by innocent people getting hurt."
She concluded her post, "That's what makes me sick. I wish I could change the world. But a post won't."
Fans Blast Selena Gomez For Her Post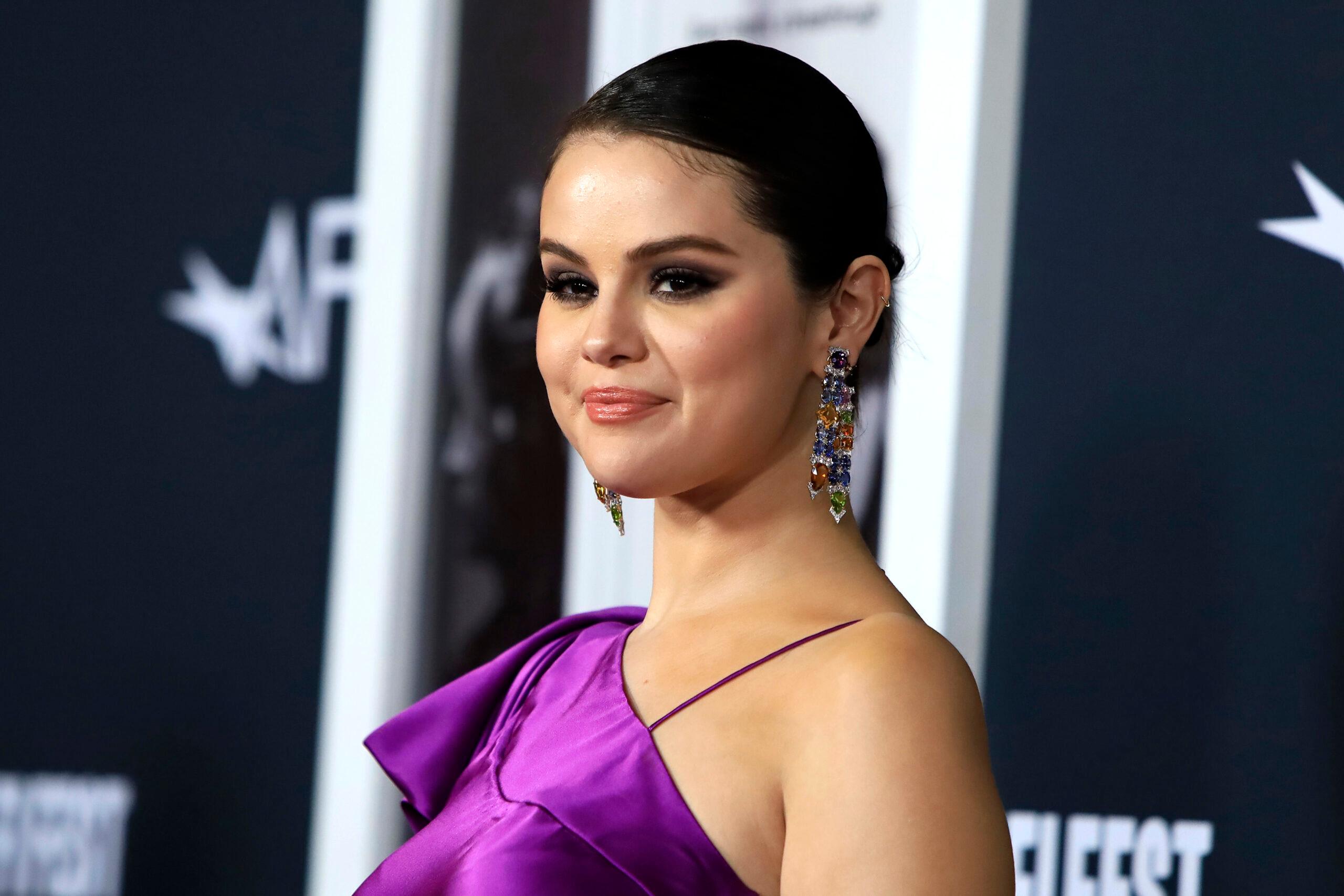 Gomez's post didn't sit well with her fans, spurring them to slam her in the comment section of a post about her skin care product.
One fan said, "You celebrities don't realize how much your voices matter and can impact others, and it's sickening to hear you say stuff like, 'I can't stand watching what's happening.' Imagine living through it!!!"
Another follower commented harshly on how Gomez only wrote the post to put herself in the spotlight.
The fan said, "She is always the victim. lol, I could actually believe her words but suddenly I remember how concerned she was about the Ukrainian War. Shame on you Selena. Stay kind silence (sic) as always."
A third fan commented, "I'm glad I never spent my money buying your products. Shame on you Selena. You portrayed positivity and influenced so much kindness to the world and now you came back with a post like this on your IGs."
Several other fans also mentioned that they were disappointed with the beauty mogul and promised to unfollow her.
Half-Palestinian Model Gigi Hadid Weighed in On The Israel-Hamas War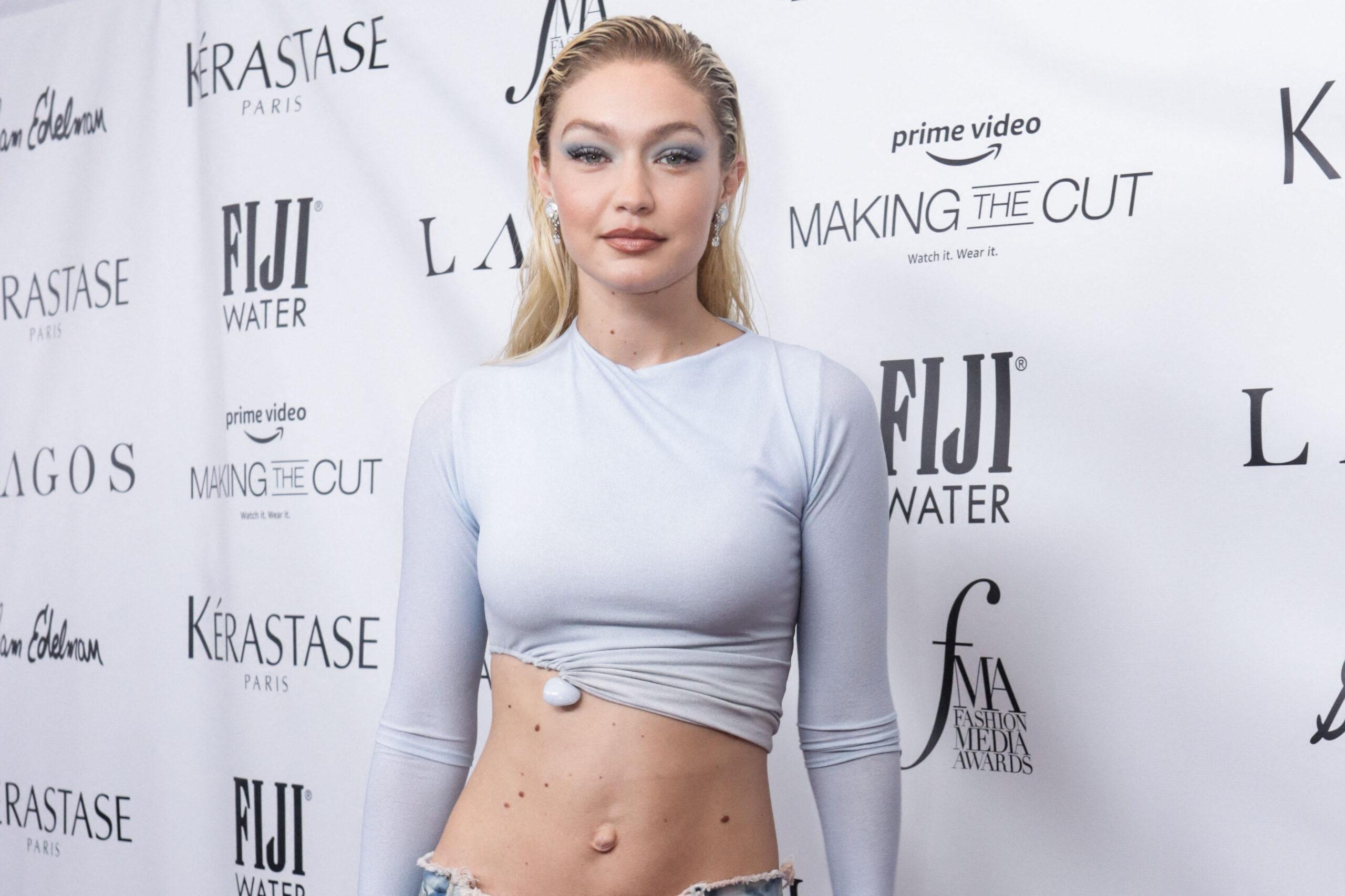 Gomez isn't the only celebrity to have weighed in on the Israel-Hamas conflict. Supermodel Gigi Hadid, who is of Palestinian origin, recently made a statement sympathizing with both parties.
She described the killing of innocent lives by the conflict as an "unjustifiable tragedy" and said it is "not in alignment with & does not do any good for the 'Free Palestine' movement."
Hadid also acknowledged that there are a lot of "complex, personal and valid feelings" on both ends, but it should not lead to the denial of human rights that has prevented the safety of innocent lives.
In a different post on her Instagram Story, Hadid wrote, "There is nothing Jewish about the Israeli government's treatment of Palestinians."
"Condemning the Israeli government is not antisemitic and supporting Palestinians is not supporting Hamas."
The Israeli Government Slammed Gigi Hadid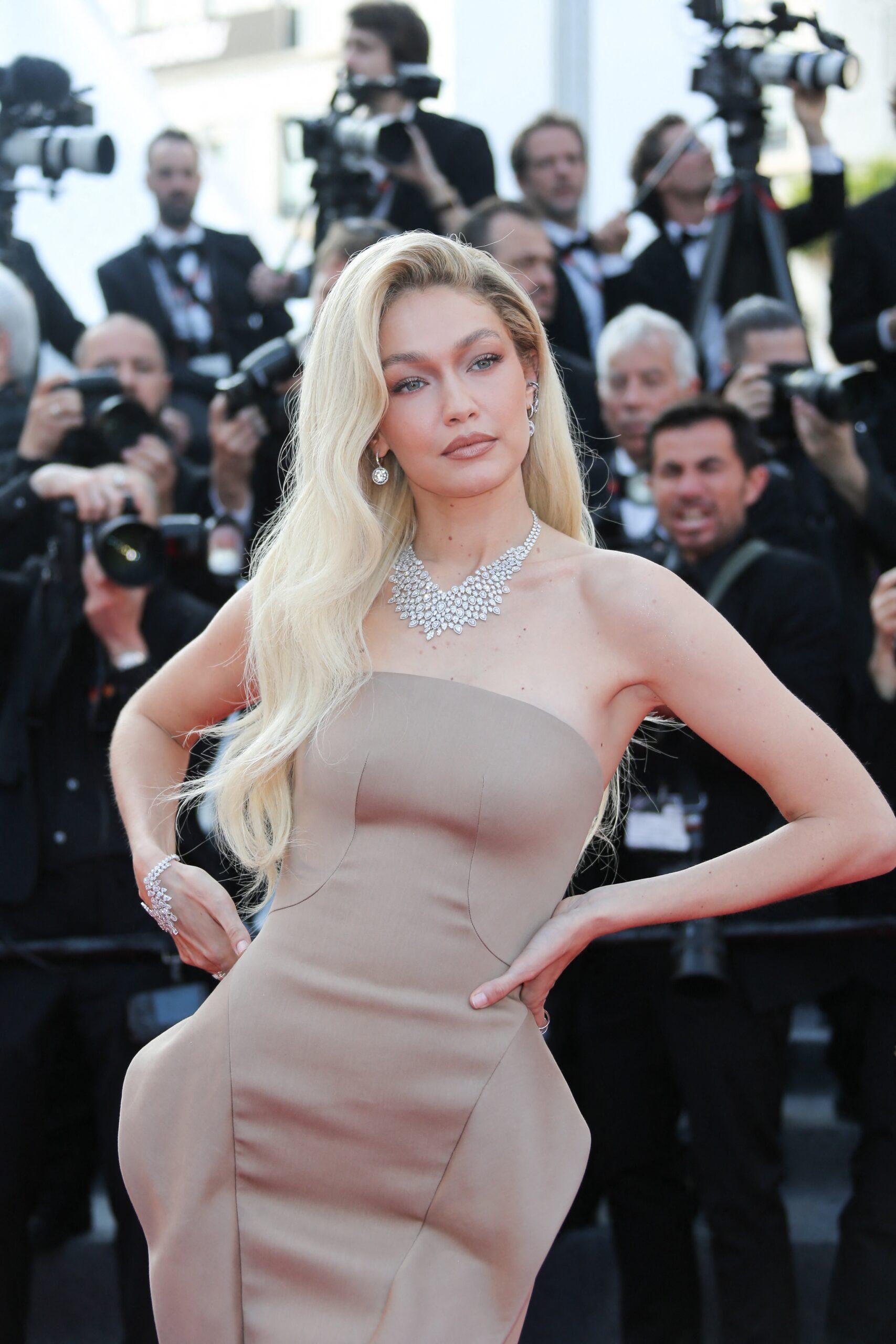 Although Hadid's comment seemed to present a balanced view of the issue, the Israeli government took offense and responded with a post similar to the one she wrote via an official account.
"There is nothing valiant about Hamas' massacre of Israelis," the statement read. "Condemning Hamas for what it is not anti-Palestine and supporting Israelis in their fight against the barbaric terrorists is the right thing to do."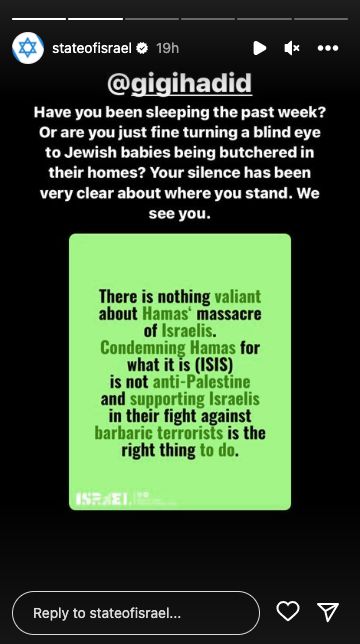 The account also accused Hadid of "turning a blind eye to Jewish babies being butchered in their homes," adding, "Your silence has been very clear about where you stand. We see you."
Meanwhile, comments made by the Hadids have incited death threats from social media users. Allegedly, family members have had to change their phone numbers due to these numbers being leaked online.
About The Author
mojjo