Savannah Chrisley Accuses Prison Guards For Targeting Her Dad
November 10, 2023
Savannah Chrisley refuses to be kept silent as she speaks out against the correctional officers at her father Todd Chrisley's prison facility.
The "Chrisley Knows Best" star recently laid accusations of an alleged target on her dad's back with regards to harsh conditions. Amid this adversity, she continues to embrace her newfound responsibilities, defying stereotypes of privilege by becoming the guardian of her two siblings, Grayson and Chloe. 
Savannah Chrisley Battles For Justice Against The Prison System 
The podcaster is not just the glamorous personality we see on screen; she is a daughter fighting for justice and a voice for her parents. The reality TV star has been vocal about her dad's alleged mistreatment and poor living conditions he endured since his prison sentence began. 
Chrisley shed light on what she claims to be a concerning situation within the prison walls. She revealed the disturbing turn her advocacy took, claiming that guards are now targeting her father in retaliation.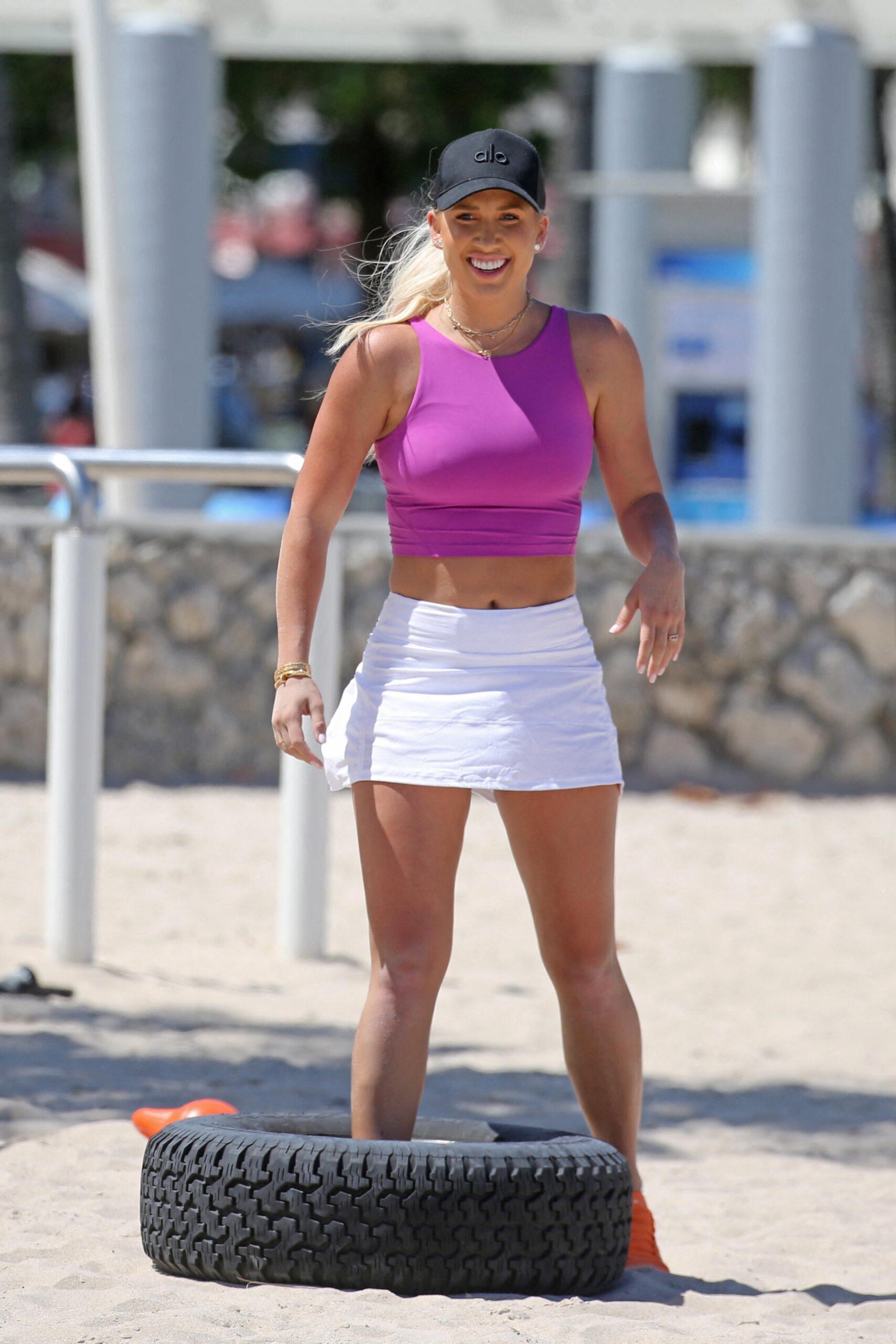 The TV personality shared, "It's been really tough (for them) since I started speaking out about everything. That's been the toughest part. More so for Dad. There's been a lot of retaliation, so we have to worry (about him)."
Her allegations also extended to guards discussing the possibility of depleting her father's commissary account, a move she saw as a harsher form of retaliation. According to the 26-year-old, Todd is being denied non-recorded phone calls with his lawyers, a critical means of communication to discuss his situation behind bars.
While her mother, Julie, has not faced the same level of targeting, Chrisley emphasized the deplorable living conditions the 50-year-old endured while explaining the mistreatment some female inmates face from male guards to ET's Rachel Smith at her Nashville home.
Despite the challenges, the "Sharknado 4: The 4th Awakens" star relentlessly speaks out with Todd's support. She shared her father's words, "If I have to be uncomfortable in order to hopefully implement and force change, then I'm willing to do it.'"
The couple, convicted on fraud charges in November 2022, are currently appealing the conviction, awaiting the appeals court's ruling on their path forward. After starting their sentences in January, their daughter expressed her hopes saying:
"Hopefully things go in our favor and they'll be home sooner than later. I know how hard I'm fighting, and so I hope and pray. Obviously nothing has gone in our favor whatsoever, so I just hope, literally everyday, I just pray."
The 'Growing Up Chrisley' Star's Role As  Her Siblings' Guardian
In September, the media personality candidly discussed her financial situation, revealing an honest admission about her preconceived notions of wealth. "I will make no bones about it, I spent my money like it was never ever gonna go away. I never thought it was gonna go away," she confessed. 
The "Unlocked With Savannah Chrisley" host explained the profound shift in her mindset that accompanied the transition to a single-income household, emphasizing how this change has become a test of her character. Reflecting on her changed circumstances, Chrisley shared:
"I feel like God never gives you more than you can bear. I feel like what is happening right now is exactly what I needed to not be this spoiled, entitled whatever, because what's happening now is testing who I am as a person." 
The impact of her altered financial situation was not just theoretical; she revealed that work opportunities had become scarce for about a year. Despite these setbacks, she hinted at an upcoming reality show that promised to be "so fun, so interesting, (and) very different."
In a previous episode of her podcast, she also discussed her emotions, admitting to being in the "anger part of grief" and questioning whether she truly wanted to have children of her own due to her sudden guardianship responsibility. 
Despite the challenges, Chrisley genuinely enjoyed sharing special moments with the two children, whom she lovingly called her "everything." She shared:
"I try to be a good adult figure in their life, but it's really hard being 25 and having two kids and trying to figure out what's best for them because normally you get to grow — like you get to grow from one to two to three to four. Like you get to grow through the ages. Now, I'm just being thrown into it."
About The Author
mojjo