Patrick Mahomes Sets Sight On Possible Ownership In The NFL
October 20, 2023
Patrick Mahomes does not seem to be waiting for his future to come to him, as he is already looking into his days beyond the field!
The professional athlete updated his fans and the public on some of his retirement plans, which involved the possibility of acquiring an NFL team. Mahomes is not a stranger to making his money work for him as the 28-year-old recently invested a whopping $215 million in a Formula 1 team Alpine Racing alongside Travis Kelce.
Patrick Mahomes Reveals His Retirement Plan
The footballer, who has two Super Bowl rings and an MVP title was asked at a press conference on Wednesday if he was content with the five sports teams in which he currently has investments.
He quickly replied that his target was to own an NFL team, alongside his other investments in Kansas City Royals, MLS's Sporting Kansas City, Kansas City Current, and Miami Pickleball Club.
According to Chiefs Kingdom, the star continued that he can hang up his investment boots after getting his dream NFL team, but "they make it pretty tough to get to that spot." The father of two referenced NFL legend Tom Brady's recent attempt at buying a stake in the Las Vegas Raiders and said:
"I think Tom is trying to do it right now, but that's definitely where you want to get to because I love this sport, and I want to give back in any way possible when I'm done playing."
Like Mahomes, Brady has also partially owned four professional teams since his final retirement in February. However, his latest 10% purchase attempt in the Raiders remains undecided as the league and other NFL are yet to give a final verdict.
Regardless of what happens with Mahomes' future purchases and ownerships, the football pro reiterates his commitment to remaining a Chiefs fan as he added, "But at the same time, I want to have that competitive edge like I've always had my entire life."
The Super Bowl winner added that he is always looking for great investment opportunities across the league and is open to bright ideas. His active status in the NFL prohibits him from purchasing teams. On his latest joint with Kelce, the star said:
"I am thrilled to join forces with my friend Travis Kelce and this group of investors led by Otro Capital to support the world-class Alpine Racing Team."
The NFL Superstar Status Is Incomplete Without His Wife
Behind the successful Mahomes is his stunning wife, Brittany Mahomes, whom he has rightfully credited as the key to his shiny football career and enviable family life.
He expressed his gratitude to his partner during the premiere interview of his hit Netflix series "Quarterback" back in July and said:
"I have a great wife. I think that helps out a ton. She helps me out a ton by taking stuff off my plate. I have great people around me, and I can be Patrick Mahomes. I can be myself, the same person I've grown up being — and luckily, that's won a couple of Super Bowls."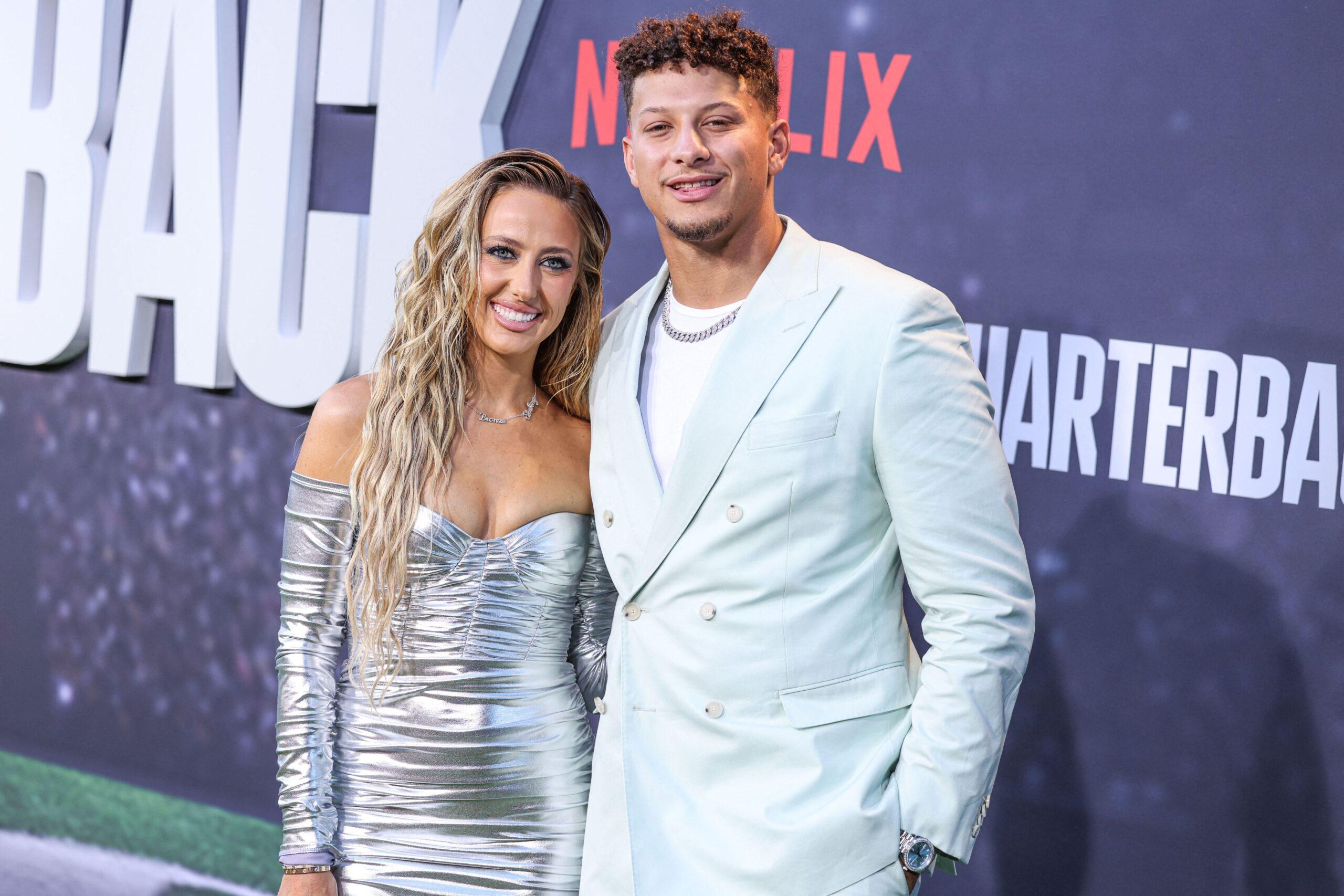 Per The Blast, the pair tied the knot in 2022 and shared two children — Sterling Skye and Patrick Lavon Mahomes III. The "Quarterback" docuseries captured the life of Mahomes, Kirk Cousins, and Marcus Mariota as they navigated the 2022 NFL season.
Mahomes Fully Endorsed Travis Kelce And Taylor Swift's Romance
Mahomes is a model friend to teammate Kelce. The Kansas City Chiefs player went the mile to get Kelce a touchdown in a September game to help impress Swift amid their romance rumors.
Kelce did not disappoint — he scored a mind-blowing touchdown late in the third quarter, extending his team's lead to 41-0 over the Chicago Bears. The plan sure worked as the "Blank Space" singer jumped for joy as Kelce made his mark, and Mahomes eventually disclosed his plans in an interview:
"Yeah, I heard she was in the house. I felt a little bit of pressure. So I knew I had to get it to Trav. I think he wanted to get in the end zone just as much as all the 'Swifties' wanted him to."
As reported by The Blast, Kelce had invited the VMA winner to the epic game after revealing this on "The Pat McAfee Show. "
"I threw the ball in her court. I told her, 'I've seen you rock the stage in Arrowhead. You might have to see me rock the stage in Arrowhead and see which one is a little more lit.' We'll see what happens shortly." said the 34-year-old tight end.
About The Author
mojjo