NFL Star Aaron Rodgers Goes GREEN For New Watch Design
November 1, 2023
Aaron Rodgers is painting the town GREEN with his latest collaborative project!
The legendary quarterback recently joined hands with the Swiss wristwatch maker Zenith to create the brand's first-ever limited edition Chronomaster Sport watch. The athlete convinced the luxury jewelry company to adopt his signature green color, paying homage to two NFL teams.
Aaron Rodgers Claims His First Watch Design Could Never Have Been Any Other Color
Throughout his successful career as an NFL star, Rodgers has only played for two teams — the Green Bay Packers from 2005 – 2022 and the New York Jets from 2023 to date. Both teams are famous for rocking green, making the bold shade a significant hue in the media personality's life.
This is why when the opportunity came for the Bart Starr Award recipient to design his first wristwatch, the 39-year-old could only think of one fitting color. Although green was not a shade Zenith associated with its products, they could not deny the color's importance in Rodgers' over-a-decade career. Raving about his choice, the athlete said:
"It has always been a color associated with me. My history as an NFL player has been playing green, so it was natural."
"Zenith had never done a green watch before," the Chico native told ELLE DECOR, not sharing how he got the Swiss horology company to change their traditions. However, Rodgers has been an ambassador for the LVMH-owned brand since 2021, a position that presumably helped his sales pitch alongside his superstar status.
The CEO of Zenith Julien Tornare did not have any issues supporting the Associated Press Athlete of the Year honoree's project, confessing: "I said let's go further, let's do it for the first time." So what can fans expect from the Chronomaster Sport watch apart from its green tint? The Super Bowl MVP recipient was happy to drop a few hints.
Although he refused to go into a detailed explanation about the jewelry, the 39-year-old seemingly implied the watch's yellow-tipped second hand was a tribute to his former NFL team, the Green Bay Packers. "Listen, there were a few options: black, white, yellow," the Chico native explained, "I thought it just looked the best."
The stainless-steel Chronomaster Sport automatic chronograph will be a limited edition product with only 250 pieces. The timepiece features classic longitudinal beveling from lug to lug and tritone registers alongside a ceramic 1/10-second scale bezel and lacquered dial.
Additionally, Rodgers' design included the standard stick numerals instead of the brand's traditional Arabic indices. The wristwatch's 3600 El Primero movement allows it to read time at 1/10 second, with the second hand completing full rotations faster than fans' can imagine.
Regarding his plans in the timepiece business, the 4-time NFL passer rating leader confessed that he was testing the waters with his first project. "Let's see how this one goes. It could be time to reach my star in watchmaking," the iconic quarterback chimed.
Aaron Rodgers Teased His Return To The NFL Weeks After Surgery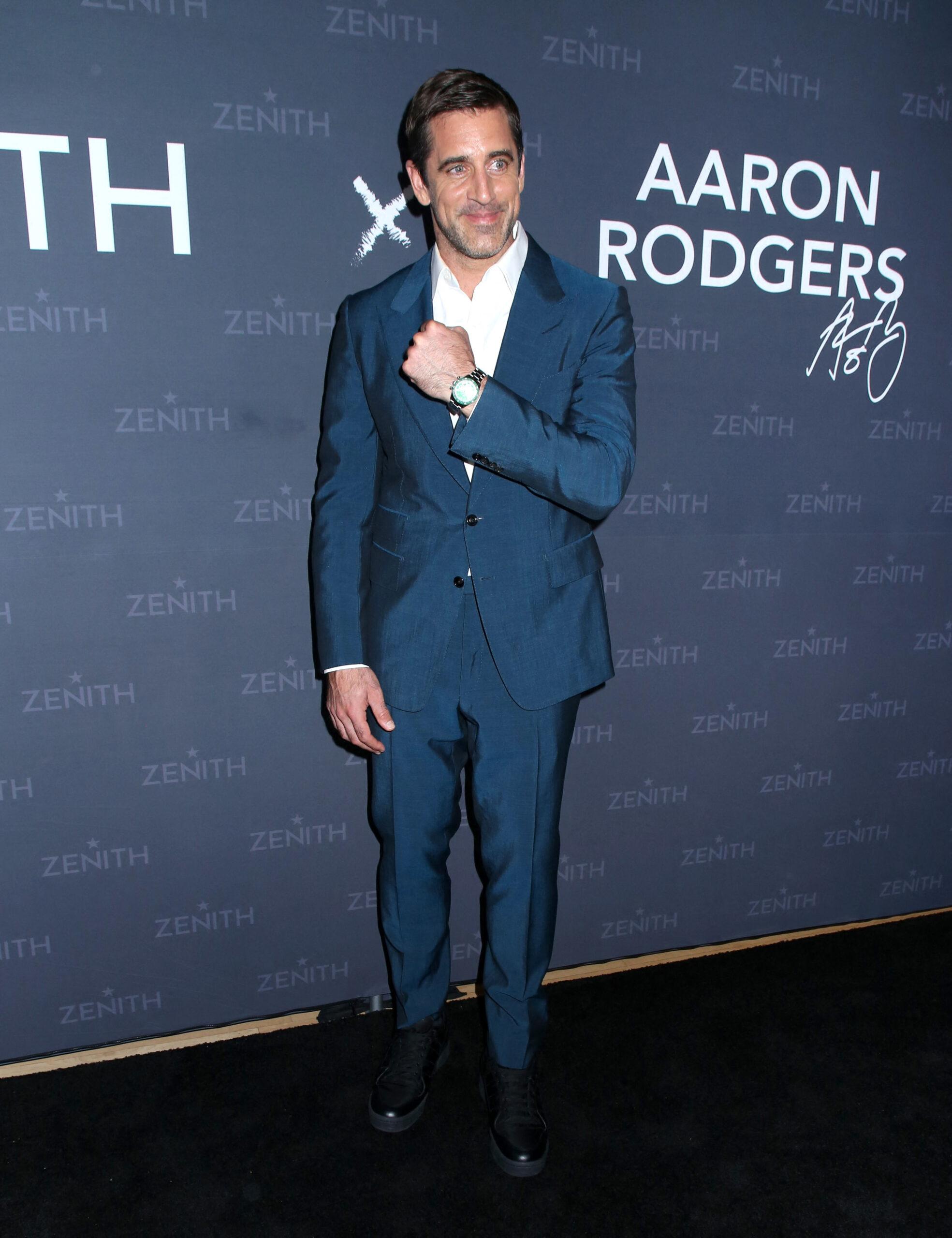 Weeks before raving about his collaborative project with Zenith, the NFL superstar surprised fans with his recovery speed after surgery. The classified procedure, described as "season-ending," saw Rodgers walking around with crutches until early October.
The athlete arrived at MetLife Stadium in a golf cart to support his team during a match. However, he proved his resilience by walking around without assistance, as seen in a viral video. The quarterback took things up a notch by joining his New York Jets teammates in their pre-game warm-ups.
Rodgers placed full weight on his ankle, throwing the ball to his teammates while looking better than ever without the crutches. The heartwarming moment came four and a half weeks after the media personality's surgery, an achievement the entertainer flaunted on Instagram with a picture of his practice session with the New York Jets.
Despite teasing fans with his recovery, the 39-year-old confessed he would not swiftly return to the NFL season. "We're kind of way ahead in just even saying that," the 2-time NFL passing touchdowns leader explained and then added, "They're just markers. You saw me walk without crutches and throw on the field. Another marker's gonna be jogging."
"And then another marker's gonna be going through a pregame workout, probably, and get on a practice field. All of these are gonna take time. There's critical markers I have to hit," Rodgers concluded. Nonetheless, achieving his first marker of walking without crutches was an incredible feat for the 39-year-old athlete.
About The Author
mojjo