Matt Rife Faces Backlash For 'Mocking Disabled' Kids In Response To Critics
November 21, 2023
Stand-up comic Matt Rife recently came under fire for a domestic violence joke he made during his Netflix special.
The comedian is facing significant backlash online but does not seem disturbed by the negative response as he doubled down on the crude joke by sharing a misleading link to a site containing his "official apology."
Matt Rife Responds To Criticism Of His 'Black Eye' Joke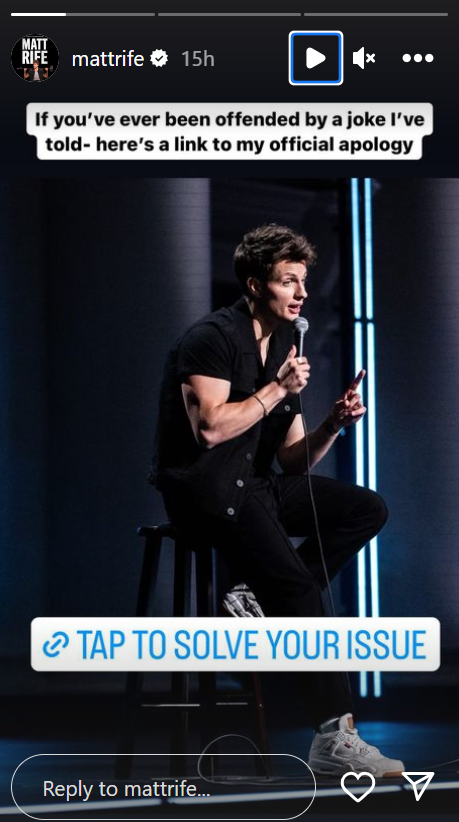 Rife might be digging a hole for himself after sharing a shocking response to fans who criticized a domestic violence joke he made at the start of his Netflix special, "Natural Selection."
The comedian came off as unapologetic on his Instagram stories, where he said, "If you've ever been offended by a joke I've told, here's a link to my official apology."
The link to the "official apology" then directs you to a website that sells helmets for people with special needs. 
Matt Rife Slammed For 'Mocking Disabled' Kids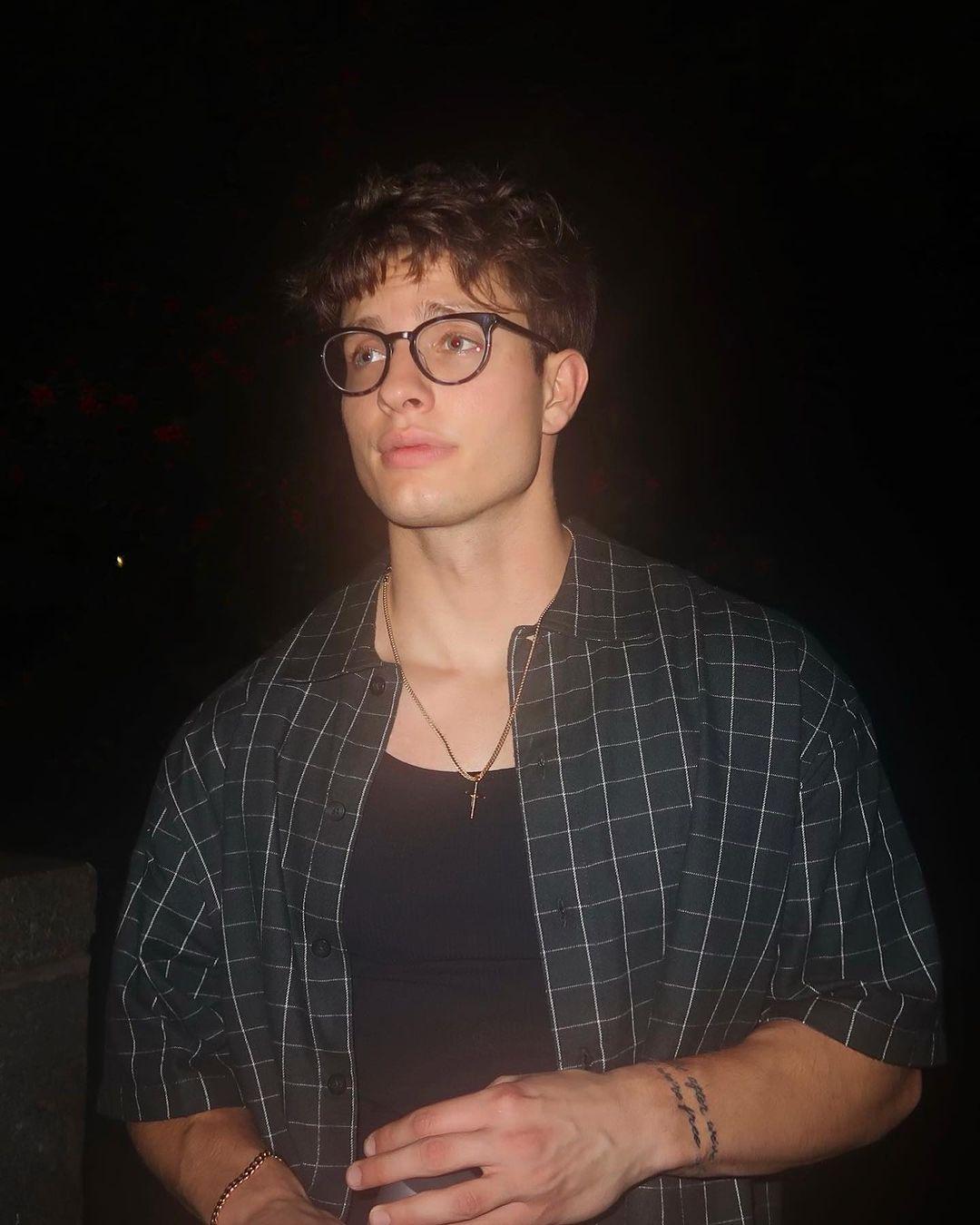 Shortly after Rife's response to his critics, social media was abuzz with angered fans who called out the comedian for being unapologetic and doubling down with another crude joke.
A person on X, formerly known as Twitter, wrote, "'Comedian' @mattrife has decided to now mock disabled and other special needs children. The internet is forever, Matt Rife. Hope you enjoyed your 14 minutes, loser. (And yes, I meant 14.)"
Another X user noted, "Matt Rife making a 'special needs' joke in response to the backlash over his Netflix special. Ableist AND misogynistic, boy really out here showing his whole a–."
"Matt Rife making a sexist/DV 'joke'…then sending people to a website to special needs helmets as his 'apology.' There's a difference between an edgy joke and just being disrespectful and distasteful," a third person wrote.
"I love comedy shows and the trailer made him look really funny! I got five minutes in before I closed it out. If you hate women so much we'd rather you not be around us anyway," another netizen stated.
Over on TikTok, the app that helped launch his comedy career, things were equally heated for Rife, with fans slamming him for alienating his audience, which mainly consists of women, with a domestic violence joke.
Famous TikTok influencer Dan Cashio lay into Rife, calling him out for "betraying his audience" with an "unfunny" joke about domestic violence.
He said, "I watched the first like three minutes of the Matt Rife Comedy special on Netflix and turned it off because like, dude, bro, you betrayed your audience immediately."
Cashio continued, "You told an unfunny joke about domestic violence against women and also included in there like some misogyny about them in the kitchen, cooking and pleasing their man, pleasing their husband and you, you betrayed them and women made you… Your audience are (sic) women."
The TikToker concluded by saying, "You do you; how can you not value the people that put you in the position you're in?… You're mad, man. Gross."
The Domestic Violence 'Joke' That Started It All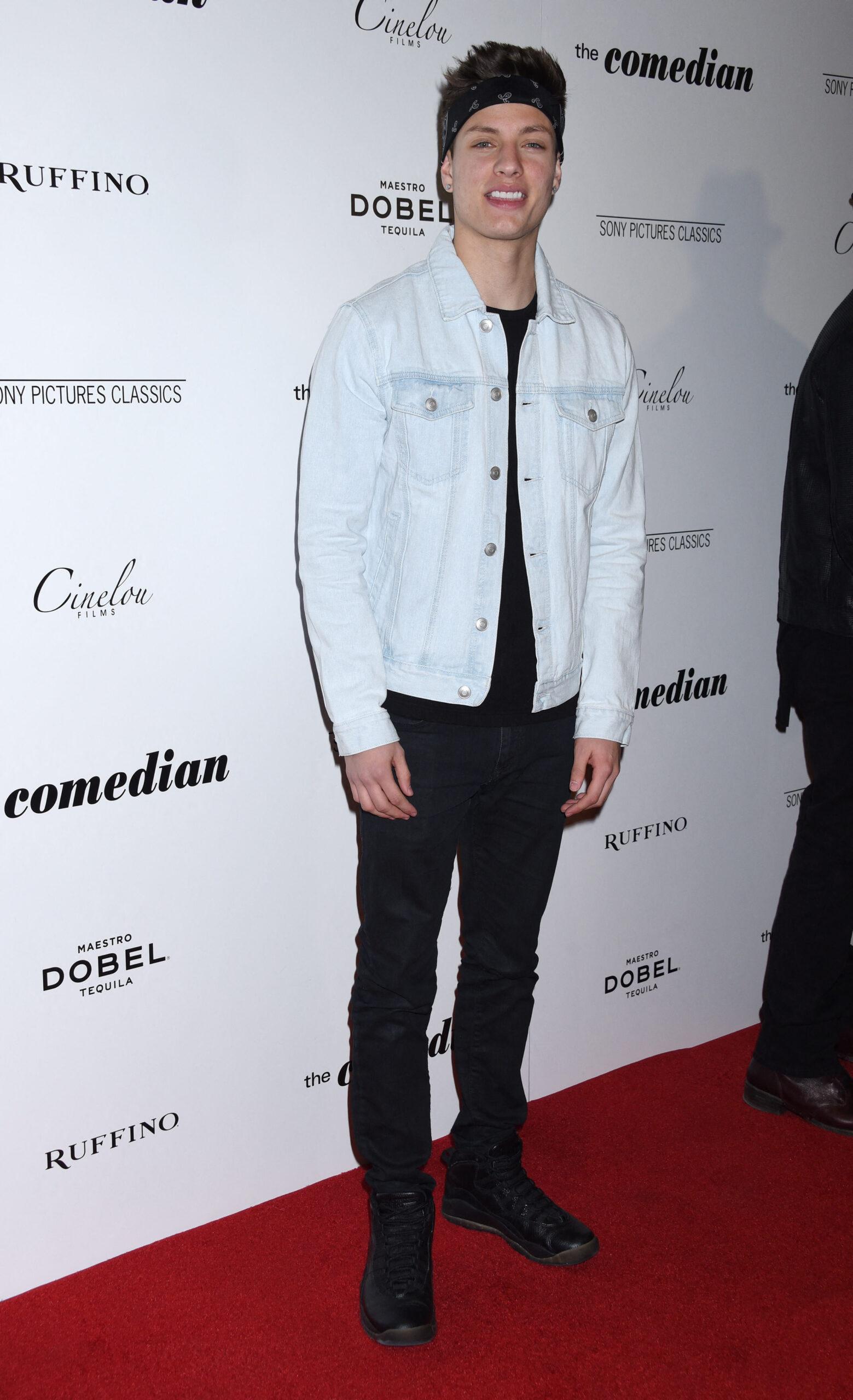 The 28-year-old comedian kicked off his Netflix special by joking about meeting a hostess who had a black eye during one of his travels.
Recounting the story, Rife noted, "It was pretty obvious what happened. But we couldn't get over, like, this is the face of the company? This is who you have greeting people?"
Rife continued, "And my boy, who I was with, was like, 'Yeah, I feel bad for her, man, I feel like they should put her in the kitchen or something where nobody has to see her face.' And I was like, 'Yeah, but I feel like if she could cook, she wouldn't have that black eye.'"
The comedian further made fun of the waitress with a black eye, saying, "She should have had her protection crystal."
Matt Rife Does 'Not Worry' About 'Offending' People
Rife has previously talked about facing criticism, noting that he does not care to offend during his shows, so he does not "miss out on a joke." 
"You have to be yourself and not worry about offending a certain amount of people. You might miss out on a joke that you're worried might offend somebody, but might make you a million new fans," the comedian told Variety.
Rife added, "You don't know what people are into, and that's why you have to go out there and do your comedy and just lay it all out there vulnerable to find your audience."
He also pointed out that being vulnerable is important in the comedy industry, noting that it is necessary for comedians to "do the jokes you want to tell in your voice, in your comedy, to figure out who likes your comedy."
About The Author
mojjo