Lisa Ann Walter SLAMS Megan Fox For Her Halloween Costume
October 30, 2023
Megan Fox's latest move to defy the SAG-AFTRA guideline on Halloween costumes has not been well received by "Abbott Elementary" star Lisa Ann Walter.
Fox sent the internet and Halloween universe into a frenzy when she shared photos of her controversial costume and tagged the striking SAG-AFTRA in her caption. Many fans and critics echoed Walker's displeasure, however, Fox is not the only Hollywood star to dismiss the Halloween costume guideline.
Lisa Ann Walter Is Not Impressed By Megan Fox's Latest Antics
Fox ultimately did the opposite of the guidelines SAG-AFTRA laid down for its members concerning the Halloween celebrations. The union had urged its members not to dress up as TV and movie characters from struck studios to deny them and their streamers free publicity and clout.
A defiant Fox appeared in a "Kill Bill: Vol. 1" inspired costume alongside fiance Machine Gun Kelly on Friday night at the Casamigos Halloween Party. The actress switched into teen assassin Gogo Yubari while her beau looked dapper in Una Thurman's blood-stained yellow tracksuit.
Walter was not a fan of Fox's decision as she quoted Pop Crave's tweet on X (formerly Twitter) about the actress's outfit and wrote:
"What a rebel. Keep posturing for st— sh–, pretty lady. Meanwhile, we'll be working 10 hours a day – unpaid – to get basic contract earners a fair deal (PS-the post responded members' questions. No one cares about kids' costumes. Just high pros at fancy parties. Like Megan)."
Walter's reaction was met by different opinions, which were clearly expressed in the comment section and quotes.
One user replied in support of Walter and wrote, "Get her, Lisa! Idk why it's the people who haven't been on the lines or putting in the work during this strike that think they have the right to complain." Another critic equally condemned her choice of outfit and wrote, "The costume isn't even giving either."
The 37-year-old still had loyal fans in her corner, as another user wrote, "What costume a person wears has 0 impact on what you are supposedly working towards and has nothing to do with you "working" 10 hours a day – unpaid – in a position you chose to do. Cry someone else a river," while a rather stunned user quipped, "Halloween rules? What."
"i definitely didn't predict this reaction to the costume rule, it made sense to me and didn't seem like a big deal. I guess Halloween is like the most important thing ever for Hollywood," wrote a sarcastic X user who could not place the outrage.
A rather neutral user simply requested more knowledge on the issue as they wrote, "Can someone please explain to me why it's wrong for celebrities to be doing these costumes? Like how there's even a rule about it."
Mandy Moore Tagged SAG-AFTRA Guidelines Misplaced Priority
Fox is not the first actress to disregard SAG-AFTRA rules. Earlier in the month, Mandy Moore challenged the body to focus on better things.
The "This Is Us" actress expressed her view on her Instagram story by uploading a picture of a magazine headline instructing members not to dress up as characters from Struck companies. In Moore's words:
"We're asking you to negotiate in good faith on our behalf. So many folks across every aspect of this industry have been sacrificing mightily for months. Get back to the table and get a fair deal so everyone can get back to work. Please and thank you."
The actress further disclosed that despite her 20-year-old career in Hollywood, her pay is still very meager, which is why she joined the strike. In fact, her streaming residuals from "This is Us," where she channeled Rebecca Pearson for 6 years, gathered very little checks despite its groundbreaking success.
Per The Blast, Moore shared that she has had very lean years where she could not get a job and had to rely on her residuals from past works to help her get by, which is almost the same for other actors in her position.
SAG-AFTRA Canceled Its Picketing For Safety Reasons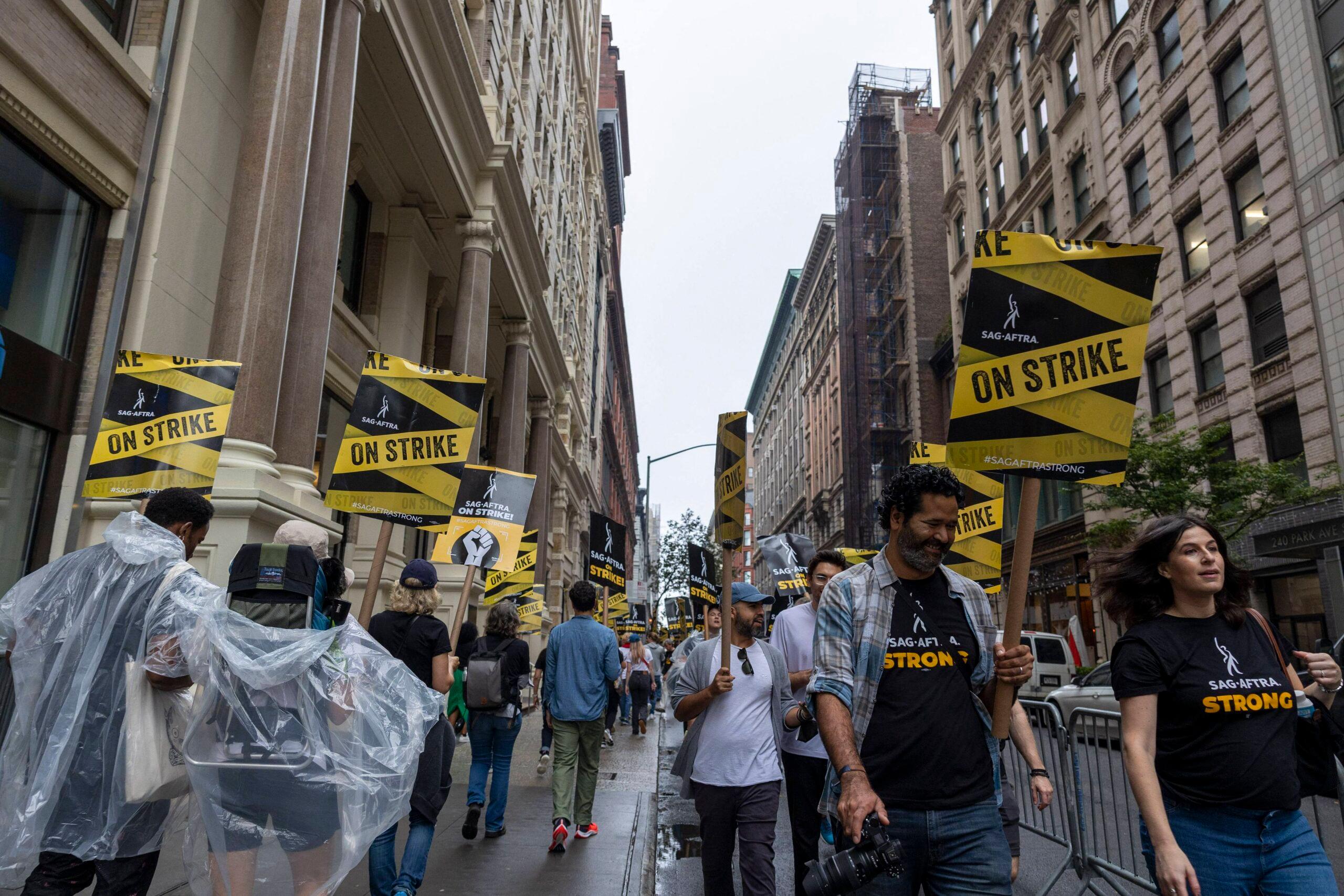 Prior to their Halloween announcement, the body announced that all pickets set for "Friday the 13th" in areas of New York and Los Angeles were canceled. This decision followed the Israeli-Palestinian crisis, which began on October 7th. 
The union stressed that it was unrelated to the strike but solely for security purposes, as the Hamas leader Khaled Meshaal had announced a worldwide protest on Friday, October 13, in support of the terrorist attacks unleashed against Israel.
Following the union's attack, the New York Police Department and Los Angeles Police Department also issued security statements to the populace. While there were no threats at that moment, the security agencies stressed their commitment to closely observing developing situations and increased patrols for extra caution.
Per The Blast, New York City Mayor Eric Adams shared that the police department was instructed to share resources with schools and places of worship to ensure that everyone is safe and New York remains a place of peace. The LAPD also released an official statement on its social media page, which read:
"The Los Angeles Police Department is aware of recent statements made calling for action as it relates to the conflict in the Middle East. We have no information of any specific or credible threats to the City of Los Angeles, but we are continuing to assess the situation for any potential impact to our communities. We are closely monitoring these events and are coordinating with Federal, State, and local partners on information sharing."
The SAG-AFTRA strike began on July 14, and the union has maintained its stand in the dispute with the Alliance of Motion Picture and Television Producers (AMPTP). This strike marks the first time in 63 years that Hollywood writers and actors have downed tools at the same time.
About The Author
mojjo