Jimmy Kimmel's Son Wants To Punch Olivia Rodrigo's Ex In The P–is??
October 25, 2023
Olivia Rodrigo has a new protector, and his name is Billy Kimmel!
Channeling the fiery spirit of the star's music and stepping into protective mode, Jimmy Kimmel's son revealed his mission to give her ex a taste of his own medicine. While the "Deja Vu" singer might be preparing for her "GUTS" tour, it did not stop her from taking time to have a meaningful experience with the TV host's children. 
Jimmy Kimmel's Son Takes A Stand On Olivia Rodrigo's Behalf
During a recent episode of "Jimmy Kimmel Live," the TV personality's family embarked on a school run that turned into an unforgettable adventure. As his two young children, Jane and Billy, hopped into the car, little did they know that their routine morning would take a magical turn. 
The surprise arrival of Rodrigo, posing as a hitchhiker, left the kids star-struck and brimming with excitement. Kids have a knack for saying the darndest things, and the young 6-year-old was no exception. 
After overcoming their initial shock that a global pop sensation had joined them, the kids gleefully sang to Jane's cherished tune, the "Ballad of a Homeschooled Girl." The turning point came when their mother, Molly, asked Billy for his favorite song. Although he promptly answered with "Get Him Back," it was not the melody or lyrics that won him over.
His affection for the song stemmed from a rather unique reason: a plan to settle a score with Rodrigo's ex, involving a not-so-friendly punch. Emphatically, Billy said, "Punch him in the p–is," in response to his mother's question about why he wanted to get the singer's ex back for her. 
(embed)https://www.youtube.com/watch?v=4mhKYBWnZGA(/embed)
Meanwhile, the 20-year-old graciously acknowledged her young protector, saying, "Thanks for protecting me. I really appreciate it." After dropping the kids off at school, the busy songwriter headed to Kimmel's show for an insightful Q&A session.
The "Bizaardvark" actress discussed topics ranging from babysitting and house hunting to her fear of ghosts, and she even spoke about her bag of "President Biden goodies."
They delved into the Grammy winner's utilization of four-letter words in her songs. Kimmel raised the topic of profanity, highlighting a specific instance, stating, "We had to listen to the um the clean versions of your song cuz the Vampire song has a catchy little lyric in there that our son started singing back to us." In response, the "High School Musical: The Musical: The Series" star explained:
"I love using a swear word when I think it's like tasteful and necessary, but sometimes I try to tone it down. Like there were a few songs in the album where I was swearing all over them, and I kind of had to like pair it back." 
She also shared some original lyrics she had initially put in her song "Get Him Back," pointing out that she decided to switch them out because it felt too spicy for her younger audience. 
Olivia Rodrigo Extended 'GUTS' Tour: More Dates Announced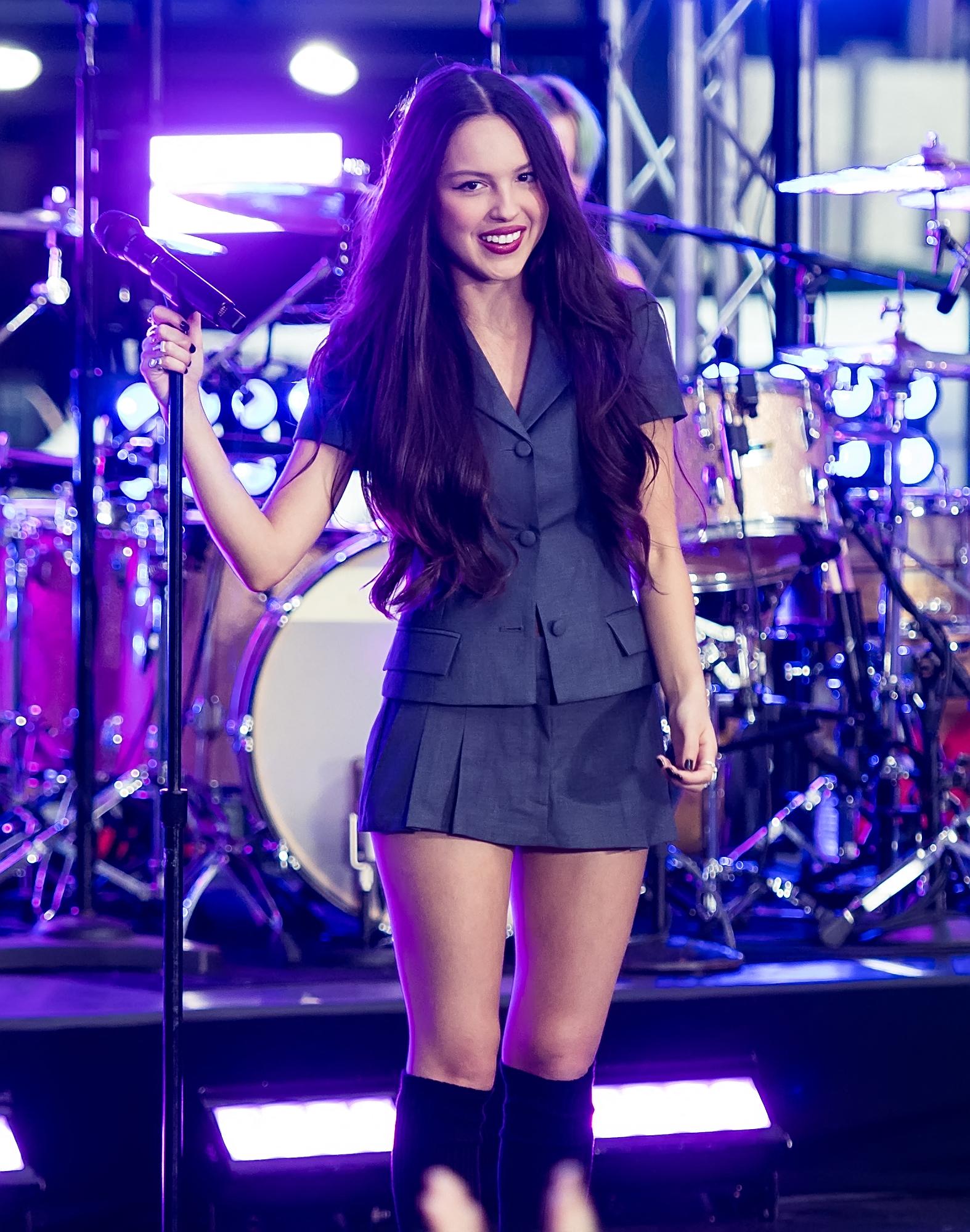 Before making children happy with an impromptu car karaoke before school, the "Good 4 U" singer announced that her much-anticipated "GUTS" tour was expanding. 
In September, The Blast reported that kicking off in Palm Springs, California, on February 23, 2024, Rodrigo's tour would take her to iconic cities like Phoenix, Houston, Dallas, Austin, and more.
She would also venture into Canada in late March, followed by stops in Ireland, the UK, Paris, and Denmark, before concluding with additional dates in the United States.
Fans are definitely in for a spectacular ride, as the "Sour" chart toppers captivating performances promise an unforgettable concert experience. Apart from the legendary Breeders as her supporting acts, others included were Remi Wolf, Chappell Roan, and Pinkpantheress. 
The 7-time Billboard Music Awards winner's tour is set to be a musical journey like no other, following her mega-successful debut album "SOUR," released in 2021, and "GUTS," which has been nothing short of a musical phenomenon.
The "Drivers License" singer's devotees will recall that the album, featuring hit singles "Vampire" and "Bad Idea, Right?", took the music world by storm upon its release on September 8. Meanwhile, she has already released visuals for the songs mentioned above and unveiled the glittery revenge-themed video for "Get Him Back!"
About The Author
mojjo